The saga of the Pandava brothers and Draupadi, their final journey to heaven, unfolds the curtain of sin, love, compassion, and unwavering adherence to Dharma.Here we are looking at why the righteous Pandavas suffered.
The Pandavas anointed Parikshit as the crown prince of Hastinapura. They appointed Yuyutsu as the guardian of the young prince. Yuyutsu, born to Dhritarashtra and a Shudra woman, was a beloved figure among the Pandava brothers. He had shown courage to stand with them on the path of Dharma and was considered a son-like to them.
From Hastinapura, Pandava brothers and Draupadi set out walking in the northern direction. In one word, 'Vanaprastham'
Draupadi: The First Loss
On their journey, the first to surrender to mortality was Draupadi. Bhima saw this first, and he couldn't bear that. His love for Draupadi was profound; he was the one who loved her most.
He fiercely avenged her dishonour in the Kaurava court with blood. During their exile in the forest, Bhima diligently ensures Draupadi's safety and comfort. How could we forget the Kichaka chapter from Mahabharatha? Even when Arjuna was hesitant, Bhima prioritised Draupadi. Even Bhima encountered Hanuman to fulfil Draupadi's desire for a flower.
Bhima collapsed, seeing Draupadi lying motionless on the earth. But the Pandava brothers knew they had to keep going. When others were walking, Bhima asked Yudhishthira, the wisest among all, 'Why did Draupadi die? She did nothing wrong.'
Yudhishthira said, 'Our journey is about more than just living and dying. We shouldn't think too much about it. Draupadi was good, but she was only meant to come with us until here.' Bhima said, 'But she was our wife! She should always be with us!' Yudhishthira calmly said, 'It's not up to us. What happened to Draupadi was because of what she did in her life.
Draupadi: Where Love meets Sin
Draupadi loved all five of us, but deep in her heart, she had a special place for Arjuna, the first one to win her heart. This natural inclination of her heart highlights the nuanced psychology of love and attachment in women. A woman, even if she is with many men, can deeply love only one. Maybe he was her first love, or maybe he was the one who made her wet for the first time or who offered her a shoulder in her darkest hours.

Yudishitra, Wisest among the Pandava Brothers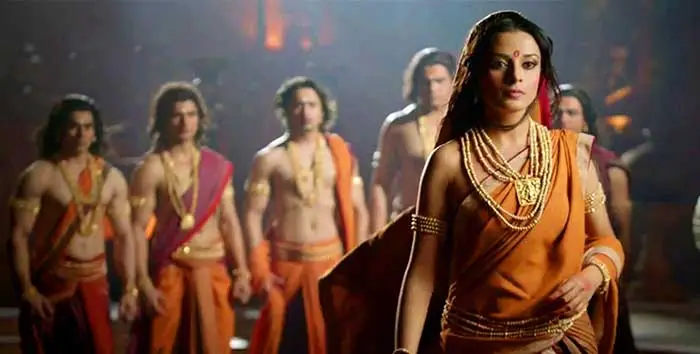 Bhima, Draupad's sin was her lust towards Arjuna, but remember, she was noble and righteous, and that's why she could travel with us this far. I understand your deep feelings for her. You have always protected her. Only Arjuna could truly win her heart, beyond her physical being. And for the four of us who came after, she never denied us fairness and love. She never showed dislike or boredom for our sake. Draupadi was like a goddess! let's move on, Bhima.' 
The Downfall of Sahadeva, Nakula, and Arjuna
During their ongoing journey, Sahadeva was the next to die, followed by Nakula. Yudhishthira explained to Bhima that Sahadeva's pride in his wisdom and Nakula's pride in his beauty were their downfalls.
Then, it was Arjuna's turn. He also surrendered to Yama, the god of death. Bhima again asked Yudhishthira why. Yudhishthira said, 'Arjuna once vowed to defeat all enemies by himself. This boastfulness and wrath, along with his envy, were his sins. That's why he couldn't continue the journey.' Then they continued walking
Losses Along the Way: Fall of a Gentle Giant
When Bhima was about to fall, he asked Yudhishthira, 'Elder brother, I am about to fall. What's my fault?' Yudhishthira replied, 'Bhima, you are dear to me. But your pride in your strength and your love for food (gluttony) were your downfalls.' Yudhishthira continued his journey alone, as his brothers' deaths did not stop him.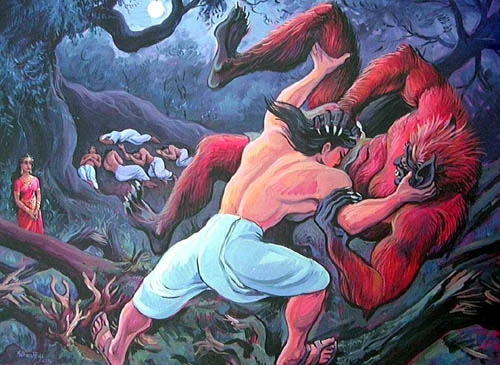 At Heaven's Gate: Righteous Among Pandavas
From the day they left Hastinapura, a dog had been following the Pandavas. Even as others fell during the long journey, the dog stayed with Yudhishthira. When Yudhishthira reached his destination, the gates of heaven were ready to welcome him. Indra arrived in his chariot and said to Yudhishthira, 'Climb into the chariot! There is no one in heaven more worthy than you to join us. Don't hesitate, Yudhishthira, come with me!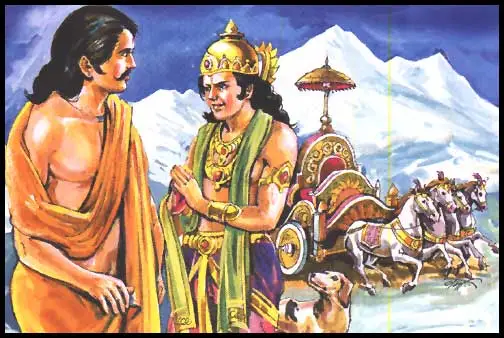 Yudhishthira told Indra, 'I'm not completely happy with this blessing you've given me.' 'What? You don't want to go to heaven?' asked Indra. Yudhishthira replied, 'No, Lord! The Pandavas and Draupadi started this journey together. They all died on the way, and I don't even know what happened to them. Going to heaven alone will bring me more pain than joy. My brothers are my life, and Draupadi is part of our soul. Please tell me where they are now.'Indra smiled and said, 'Yudhishthira, the world has never seen a brother as loving as you. You often seemed weak because of your love for your family. Is this really commendable? Is it that hard to let go?' Yudhishthira, with a lifeless smile, replied, 'A person without love for his dependents doesn't deserve to live on earth. My love for my brothers and Draupadi is beyond my senses. Please help me!
Indra told Yudhishthira, 'Your brothers and Draupadi were good people. They have already reached heaven after leaving their bodies behind. But they did not have the greatness you have, so you are allowed to enter heaven while still alive. Climb into the chariot. You can trust my words.' Yudhishthira responded, 'I have one more request.' Indra looked at Yudhishthira sceptically.
Yudhishthira's Conflict of Heart and Duty
Yudhishthira said, 'I cannot abandon this dog that has been with me until the end of my journey. Please let it come with me on the chariot.' Indra laughed a little and said, 'You know that dogs cannot enter heaven. Yet, you insist on this worthless animal.'
'No! Lord Indra, go ahead without me. This dog will always be with me. If I leave this dog behind, all my good deeds for heaven will be worthless. I will never abandon those who depend on me!'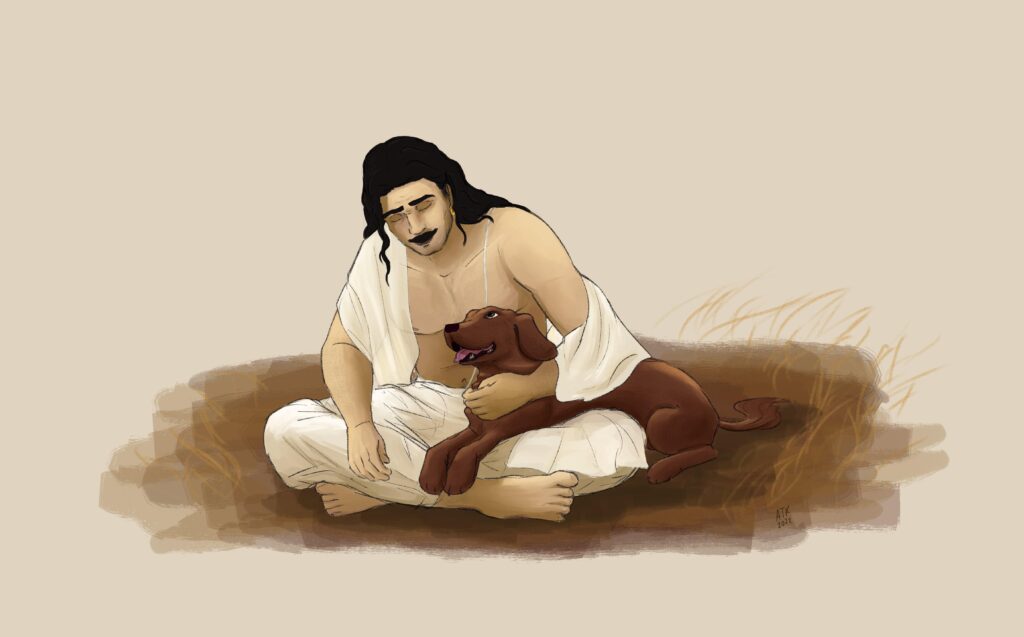 Indra said, 'You left your brothers and Draupadi on the way. Do you care more for this insignificant dog?' Yudhishthira replied, 'My brothers and Draupadi died along the way, and I couldn't bring them back to life. But this poor animal is still alive and has been with me through this long journey. I cannot abandon it.' As Indra looked at Yudhishthira with compassion, the dog transformed. It was Dharma Deva, the god of death, who had followed him in the form of a dog. He said, 'Son, your compassion has filled me with pride. You have passed a test beyond ordinary trials. The world will praise you as Yudhishthira, a name synonymous with dharma. Your words and actions have always been rooted in righteousness, and you have never strayed from this path. Go with Indra.'
Yudhishthira boarded Indra's chariot, and they soared through the sky, eventually reaching heaven.
The Celestial Reunion of Pandavas
He entered heaven and saw Krishna sitting on a majestic throne, with Arjuna beside him. They stood up and joyfully welcomed Yudhishthira. He found Karna among the twelve Adityas and bowed to him. Karna smiled and welcomed his brother. Bhima was among the Maruts, Nakula and Sahadeva were near the Ashwini Kumaras, and they all greeted Yudhishthira with respect. Draupadi, shining like a bright star, was there with their five sons. They all bowed to Yudhishthira. He saw Drona blessed by Brihaspati and Bhishma seated among the Vasus, to whom he bowed. Duryodhana, smiling on a special throne, stood up to honour Yudhishthira. In heaven, there is no enmity. Duryodhana, having died a heroic death and fulfilled his duties well, had earned a special place in heaven. (Even Yudishtira did a minor sin and he faced some challenges at Heaven, but we skipped that part since it's too long for this)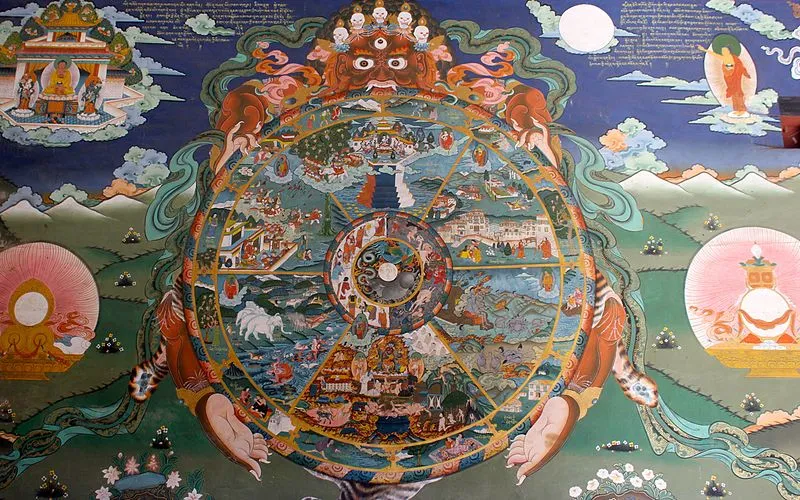 Beyond Myths: Love, Loss, and Life's Eternal Lessons
The reunion with his brothers, Draupadi and Duryodhana, each radiant in their own right, symbolised the eternal cycle of life, death, and redemption. So, this story might be more than just a myth because it reveals a timeless truth: Draupadi's quiet love for Arjuna, even as Bhima loves her deeply, shows us how complex our hearts can be. It tells us that even wise and strong people like Yudhishthira struggle with letting go of those they love. Finally, it tells us that, in the heart of forgiveness and empathy, lies the true path to liberation, the Moksha.