Asur season 1 presents a fascinating blend of mythological lore and modern-day crime. In this blog post, I will explain the reasons why Asur season 1 stands out, highlight the cast and performances, and provide a recap of the episode-wise plot points. This will serve as a refresher for those who are eagerly anticipating the release of Asur season 2.
The series has made a significant impact on the Indian web series scenario due to its unique concept and storytelling, which blends two very contrasting themes – ancient Indian mythology and modern forensic science – into a compelling narrative that keeps you on the edge of your seat.
What sets Asur apart is its innovative use of mythology in a crime thriller. The show introduces us to a serial killer who commits horrifying murders while drawing inspiration from ancient Hindu mythological texts.
The philosophical underpinnings in each episode, particularly the dichotomy of good and evil, add a deeper layer to the narrative. It's not just about catching a criminal; it's about understanding human nature and the inherent capacity for both good and evil within us all.
Asur season 1 Cast: Worth Applauding
The performances in Asur are top-notch. A notable digital debut is made by Arshad Warsi, known for his comedic roles, as a no-nonsense forensic expert. His portrayal of Dhananjay Rajpoot (DJ), an intense and egoistic senior forensic expert, is refreshing and showcases the versatility of the actor.
Barun Sobti impresses as Nikhil Nair, a forensic expert-turned-teacher, grappling with personal and professional conflicts. His performance successfully conveys the internal struggle and dedication of the character to his craft. The engaging narrative of the series is further elevated by the commendable performances of the ensemble cast, including Ridhi Dogra, Anupriya Goenka, Amey Wagh, and Sharib Hashmi.
Story of Asur Season 1
Asur Episode 1 – The Dead Can Talk
It's 11 years ago in the holy city of Varanasi. A young boy, son of a priest, is being readied to take on his father's role. But things take a strange turn. After a ritual by the river, the father asks his son for water. The next thing you know, the father's lifeless body is sinking into the river. We see the son again, his face smeared with ashes by a group of Aghori saints, and in his hand, he holds a cut finger. Could this be his father's finger? Did he…kill his father?
Now, let's zoom out of this mystery and travel across continents to the present-day FBI Training Centre in the USA. Here, we meet Nikhil Nair, who left his CBI job to teach forensic science. "The dead can talk," he tells his students, alluding to how the deceased provide enough evidence to catch their killer. He's good at his job, his knack for deductions proved when his friend asks his opinion on a murder case. But his past still calls him back to the CBI, particularly through an incessant Shashank Awasthi.
The Horror begins
Meanwhile, a gruesome scene unfolds in Delhi. A woman's body, assaulted and burnt, is discarded in a jungle, reduced to a gruesome spectacle. This news reaches Nikhil, causing distress at home. His wife, Naina, isn't happy about him considering going back to CBI, a place he left for their family. This disagreement spirals into a full-blown argument, revealing the cracks in their relationship.
The next morning, a new crime scene is discovered in Delhi, a body left in a terrifying state. Dr. Dhananjay Rajpoot, also known as DJ, arrives at the CBI headquarters in New Delhi. An old photo of him and his wife, Sandhya, hints at some history. A surprising twist comes in the form of a mysterious audio file from the killer, taunting DJ.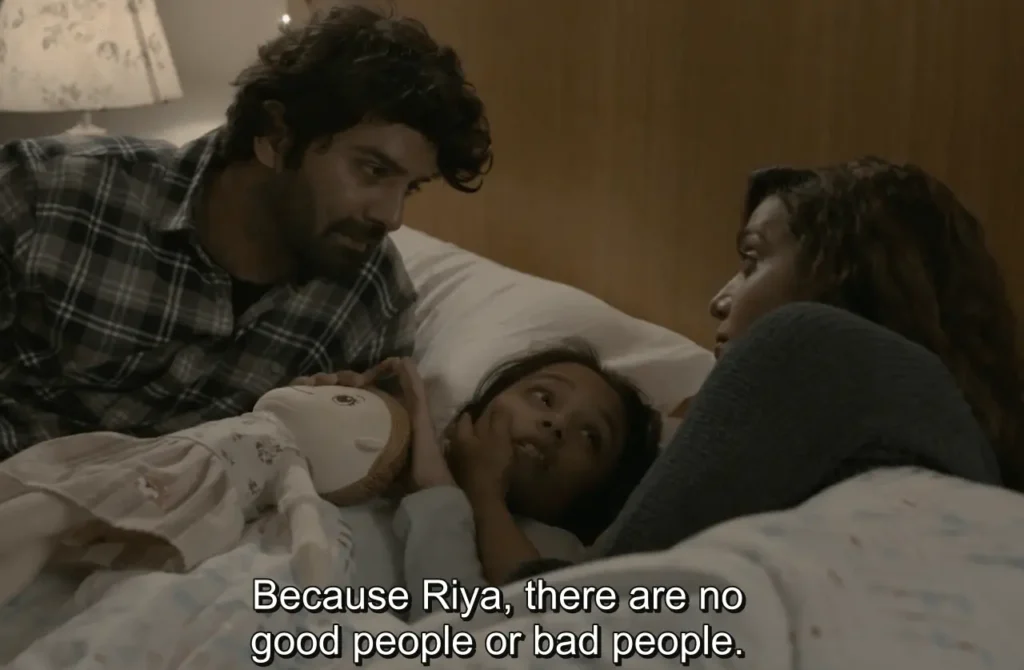 As the episode concludes, we see Nikhil taking a painful decision, leaving his family in the USA to return to Delhi. At the same time, a terrifying discovery is made – the woman who was brutally killed was none other than DJ's wife, Sandhya, a devastating revelation that leaves us gasping for more.
Asur Episode 2 – Rabbit Hole
In the second episode of Asur, we go back 18 years, to the ancient city of Varanasi. We meet Shubh, a curious child who has a unique approach to studying the Gita, leading his stern father to label him as 'Asur ka avatar'. Shubh's peculiarity is on full display, especially after a disturbing incident with a puppy.
In today's time, the CBI team, still reeling from the gruesome murder of Sandhya, who was a renowned painter and DJ's spouse, takes on the challenging task of uncovering the mystery.
This mystery leads them far away to Nagaland, where another person is found dead in the same creepy way. This is where Nikhil enter the scene.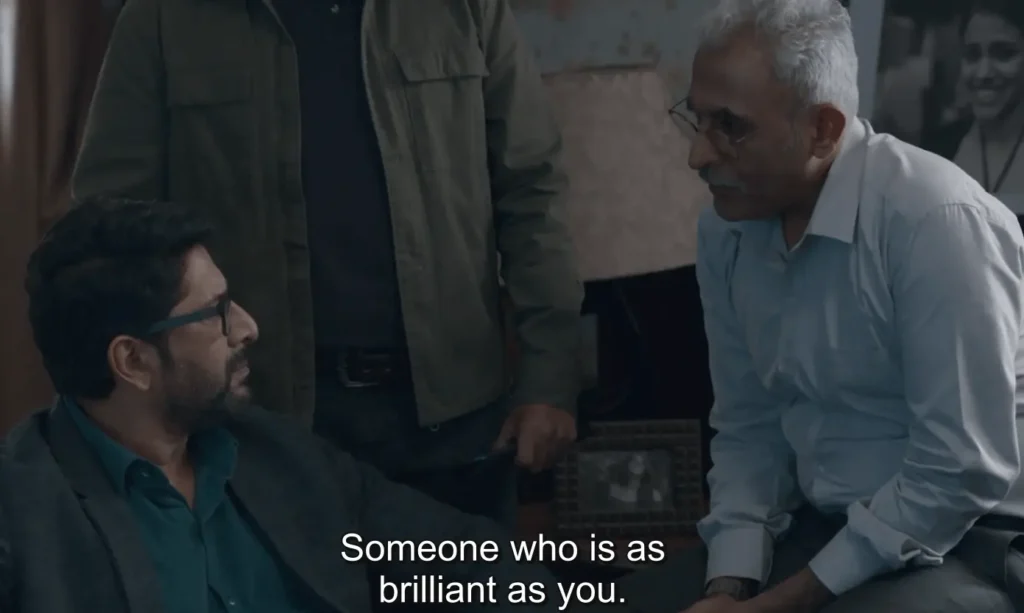 Enter Nikhil, a seasoned investigator brought in to replace DJ in this complex case. Past friction between Nikhil and DJ add an undercurrent of tension to the proceedings. Nikhil, in collaboration with Nusrat, a forensic expert, starts to put together the chilling puzzle pieces, all seemingly leading back to DJ.
Hidden GPS systems, late-night autopsies, peculiar tattoos, and Sandhya's secret abortion start to shape a troubling narrative, pointing towards DJ as the orchestrator of the grim deeds. As DJ is led away in cuffs, the audience is left pondering – is he truly guilty, or just a pawn in a more sinister game? The suspense thickens as the real killer watches the spectacle unfold.
Asur Episode 3 – Peek – a – boo
In the third episode of Asur, a flashback reveals Shubh's childhood intelligence and anger issues.
In the present day, Nikhil receives coordinates and assembles his team to investigate. DJ is imprisoned while the killer strikes in Kolkata, causing a death by poisoning.
The Delhi coordinates lead to a coffin factory, but no suspicious activity is found. Nikhil suspects a buried victim and discovers DJ's fingerprints on the money from a previous case. George, a shop owner, goes missing, and Nikhil finds him unconscious in a car near a graveyard.
DJ warns Nikhil of imminent danger and reveals a personal connection. At the graveyard, the team discovers a coffin rigged with knives and gas, rendering them unconscious. A man in protective gear takes Nikhil to an unknown location, leaving the audience in suspense for the next episode.
Asur Episode 4 – Ashes from the Past
In the fourth episode of Asur, a flashback shows DJ's presence during a havan(yagnam) ceremony where Shubh's father is mysteriously poisoned.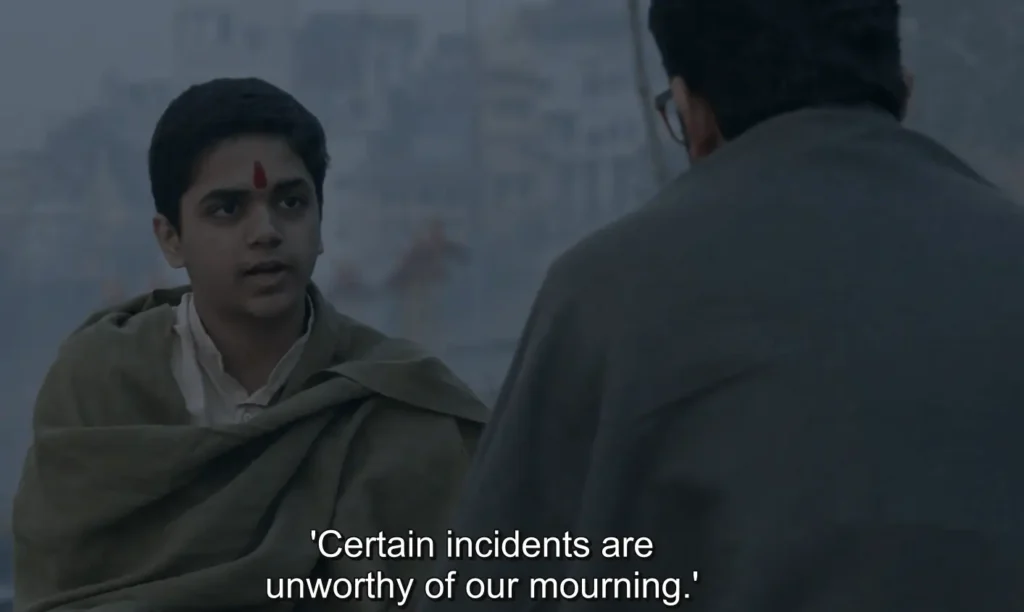 In the present day, Nikhil goes missing, and his family arrives in India. Nikhil wakes up in a secluded place and communicates with the kidnapper through a landline phone.
Meanwhile, DJ receives old case files and analyzes them in jail. The kidnapper sends food to Nikhil but demands his cooperation to ensure his family's safety. Nikhil observes the kidnapper's characteristics and sees footage of his wife and daughter on television.
The kidnapper assigns Nikhil a task to suggest a method to murder Abhilasha Chandran, a woman involved in brain-mapping experiments. Nikhil proposes a plan involving a dental appointment and an MRI machine.
The kidnapper carries out the murder as instructed. CBI discovers another murder near a lake, prompting DJ to recall the suspicious incident in Varanasi. DJ joins the team at the underwater crime scene and suspects Nikhil's involvement based on similarities to a past case. The episode leaves viewers questioning how Nikhil will communicate with DJ to escape the kidnapper's clutches.
Asur Episode 5 – The Devil has a Face
In the sixth episode of Asur, a flashback reveals Shubh's arrest for his father's murder, with DJ working on the case.
In the present day, Naina learns about another victim and refuses to believe the theory that Nikhil might be the killer. Nikhil, disturbed by his actions, demands cigarettes from the kidnapper. Lolark seeks permission for DJ to work on the case from jail but is denied by Shashank Awasthi.
Nikhil watches the news about the neuroscientist's body being found and becomes overwhelmed with guilt. Lolark visits Varanasi to gather information about Shubh and meets an ex-police officer. DJ attends a counseling session in jail led by Kesar Bhardwaj, where they discuss religion and karma. Awasthi finally permits DJ to work on the case, and a new team member, Samarth, joins. Lolark learns about Shubh's peculiar behavior in jail before his alleged death in a fire.
The CBI team begins their investigation, and DJ realizes that the killer is using Nikhil's family as leverage. Nikhil attempts to communicate by manipulating the television's wiring. Samarth suggests studying the victims' horoscopes, and Nikhil receives his second target, Aditya Jalan. Naina confronts DJ about the officers outside her home, and Lolark discovers Shubh's records.
The episode ends with DJ recalling his interaction with Shubh during his arrest, hinting at a possible connection between Shubh and the killer.
Asur Episode 6 – The Firewall
Taking a different turn, the sixth episode of Asur begins with a flashback in Kolhapur, where a renowned painter narrates a story to his grandson about the defeat of the Asur Kali. However, the painter is brutally murdered by a masked man who claims to be sending a message to God.
In the present day, Nikhil plans to murder philanthropist Aditya Jalan, but struggles to breach his tight security. DJ contacts a Balinese mask instructor for information but learns that the instructor is blind. Nikhil battles with his past decisions and has an imaginary conversation with DJ for guidance.
Nusrat creates an age-progression photo of Shubh to see his current appearance. Lolark visits Shubh's grandfather in Varanasi and discovers Shubh's sketchbook filled with drawings of demons. DJ and Samarth consult a fake priest for horoscope analysis and later seek Kesar's help. They learn that all the victims were born in the Delphinus constellation.
Another Hint & Hope
DJ realizes that the SIC database holds the required information and asks Rasul to breach its security. In a vision, Nikhil sees a way to murder Aditya using medicine. Rasul eventually hacks the SIC database with Naina's assistance. Nikhil connects the television to a police walkie-talkie signal and continues studying forensic science books. DJ discusses Shubh's story and sketchbook with Lolark.
The team suspects Aditya Jalan as the killer's next target due to his charitable nature. The kidnapper calls DJ, confirming their suspicion and revealing the date of the planned murder. DJ wonders how the kidnapper obtained internal information. DJ and the team prepare for Aditya's engagement with heightened security, but Aditya dismisses the threat. Rasul and Sajid attend the engagement, and DJ identifies a toy truck as a potential bomb.
The bomb detonates harmlessly in a freezer. However, the lights go out momentarily, and when they come back, Aditya is found dead, poisoned, with the killer's Balinese mask nearby.
The episode leaves viewers intrigued about the aftermath of this incident.
Asur Episode 7 – Let There be Darkness
Straying from its usual path, the seventh episode of Asur, takes us back 10 years to Varanasi, where Nikhil visits Shubh in jail. Shubh refuses to admit his crime and blames DJ, leaving a cryptic message that they will meet soon.
The CBI struggles to recover from the failure to save Aditya Jalan. During Aditya's autopsy, DJ and Nusrat discover that Nikhil used Aditya's ulcer problem to poison him. Two additional non-toxic elements in Aditya's bloodstream puzzle DJ, as they appear to be a message from Nikhil.
The kidnapper rewards Nikhil with cigarettes and hints at his omnipresence. DJ delves into Hindu mythology and consults Kesar for assistance. The team realizes that the killer targets achievers and believes himself to be the mythological devil Kali.
Nikhil has an imaginary conversation with Nusrat and recalls his past with Naina. DJ faces obstacles in the investigation, including a slow SIC server and the revelation that the podcast voice is not Kesar's. Dhananjay(DJ) and Naina decipher Nikhil's message, leading them to suspect Shubh's involvement and an accomplice.
DJ decodes the meaning of two elements and sends teams to search corresponding coordinates in Delhi. Lolark suspects Kesar and provides DJ with a linguistic report. Naina tracks the killer's search activity, and DJ requests Naina to add his name to the SIC database as bait.
The episode ends as the killer discovers DJ's name in the database. The penultimate episode leaves viewers on the edge, anticipating the answers in the final installment.
Asur Episode 8 – End is The Beginning
The final episode of Asur takes us back 10 years to Varanasi, where DJ and Nikhil discuss Shubh's case. DJ fabricates evidence against Shubh, leading to Nikhil's resignation from the CBI.
In the present day, the search for Nikhil continues, and DJ anticipates the killer's arrival at Central Jail to target him. The CBI discovers that Neeraj Jadhav, Radhika Venkatesh, and Umar Sayyed are missing, potentially the next targets. The kidnapper grows impatient, suspecting a trap set by DJ.
DJ becomes suspicious of Kesar and sends a team to his home. The three hostages are trapped in a chamber with limited oxygen, forced to fight for survival. DJ uncovers Kesar's fake identity and his potential connection to Shubh. Rasul's behavior raises doubt, especially when he attacks Lolark.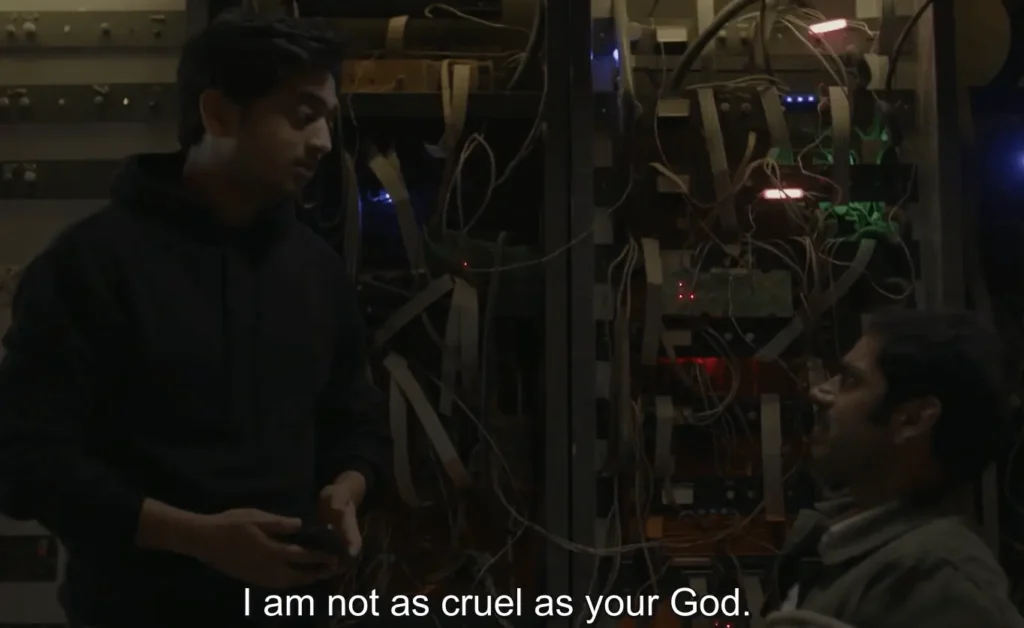 Nikhil escapes his confinement and collects crucial evidence from the kidnapper's location.
A Big Revelation & A Twist
DJ manages to overpower the kidnapper in his room. However, during Shashank's interrogation of Kesar, it is revealed that the kidnapper is part of Shubh's cult.
The live broadcast shows the hostages' desperate struggle for oxygen. DJ confesses his past fabrication to Shubh and takes pills in exchange for information.
Nikhil, Naina, and the backup team arrive at the chemical factory. Rasul challenges Nikhil to choose between his daughter and the hostages, resulting in a devastating choice. DJ's condition worsens, and he is rushed to the hospital. Riya, Nikhil's daughter, is poisoned by a member of the cult.
Lolark is killed by Rasul, and Radhika shoots Umar in a shocking turn of events. Naina and Nikhil find Riya dead, leading to an emotional outburst directed at DJ. Rasul, still hiding his true identity, takes Nikhil away.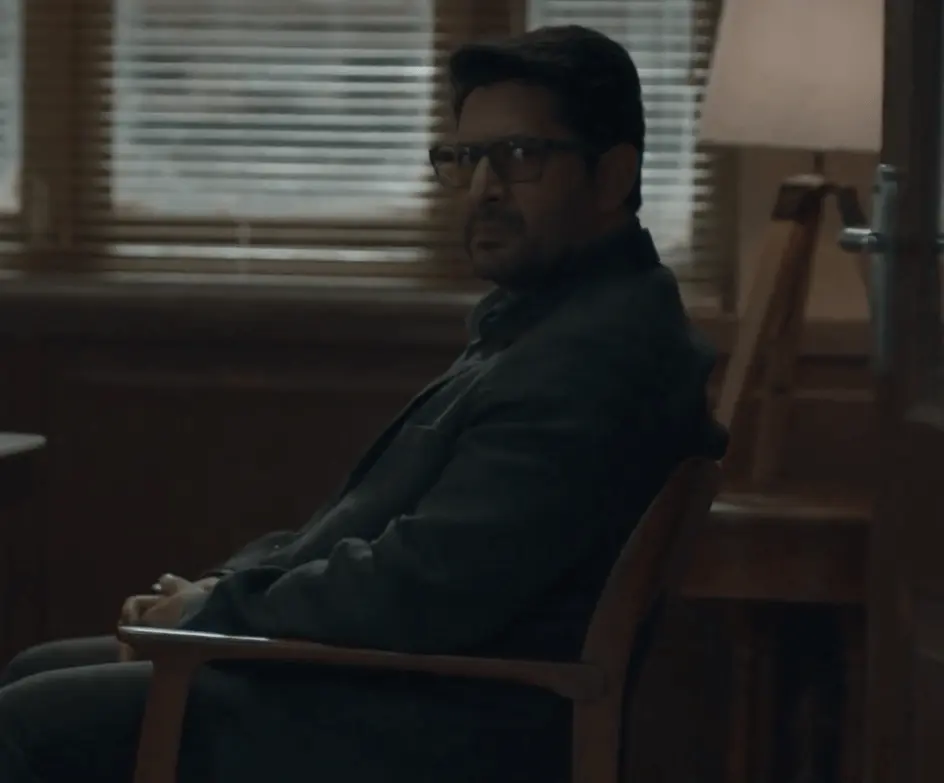 The episode concludes with DJ's suspension and the revelation that Rasul is the real Shubh.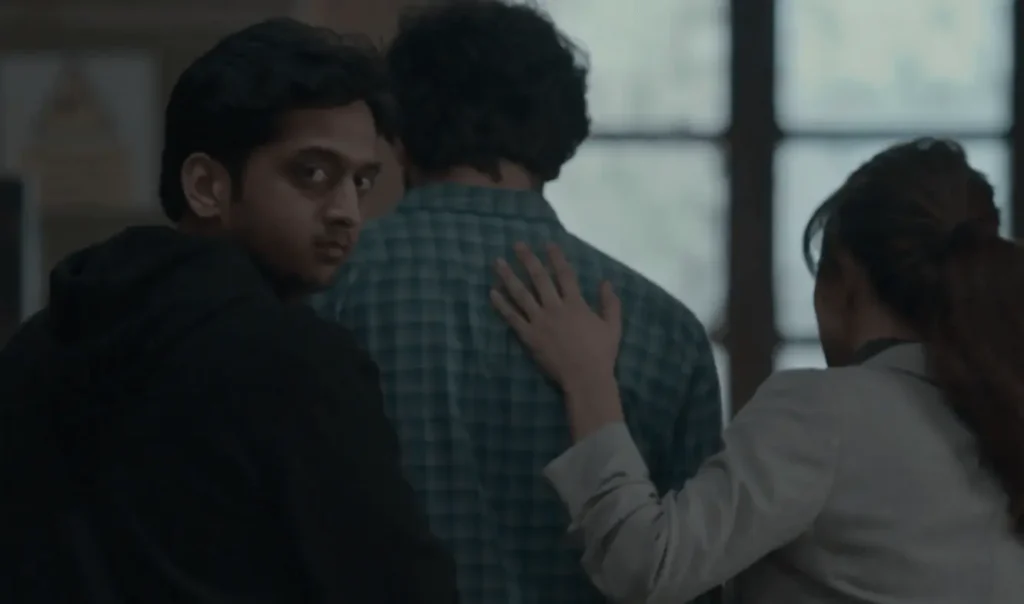 Finally, the camera pans out as Shubh shares a chilling final gaze with DJ, leaving viewers on the edge of their seats and eagerly anticipating the next season.
Asur's final episode delivers thrilling revelations and sets the stage for a potential second season, leaving viewers eagerly awaiting the future of the Shubh vs DJ and Nikhil conflict.