Corona Papers is an engaging thriller directed by Priyadarshan.This will be a different Priyadarshan movie for you, since the film is devoid of slap-stick humor or romantic songs.
Corona papers maintaining a thrilling atmosphere from start to finish. In this movie, Priyadarshan demonstrates his return to form as a master craftsman, presenting captivating visuals that keep the audience hooked.
Priyadarshan's crime thriller, Corona Papers, starts with an acknowledgment that the filmmaker was inspired by Akira Kurosawa's Stray Dog. This 1949 detective film revolves around a stolen gun and delves into the social and economic conditions in Japan after World War II.
And this acknowledgement is true I feel, the movie is not actually a remake of 8 Thottakal rather it's an adaptation of Stary Dog.
The Riveting Plot
The story follows Rahul, a newbie Sub-Inspector in the Kerala police force, who is assigned shadow duty at his first station. Tragically, he loses his service revolver, and the bullets from it are later used in a bank robbery.
As the investigation unfolds, the audience is drawn into the core of the story, with the tension continuing to escalate.
Priyadarshan's approach in Corona Papers is straightforward and focussed, unlike his previous thriller, Oppam. He eliminates all the unnecessary melodrama and humor, ensuring a laser focus on the script.
Engaging Performances and Visual Beauty
Corona Papers' first half offers a unique, thrilling experience with the freshness in casting and the fast paced events.
In the second half, although the plot points are predictable, the focus lies on how they connect and drive the characters towards the central event. This intriguing aspect keeps the audience engaged.
Secondly, the film remains engaging due to the skillful execution by the actors and Priyadarshan's enhancement of the visual beauty and dramatic elements.
For example, there is a memorable scene where characters are exchanging money on a rainy night, adding an intriguing layer to the thriller.
The supporting cast, including Shane Nigam, Shine Tom Chacko, Gayathrie, P P Kunhikrishnan, Henna Reji, and Siddique Lal Jr., all deliver commendable performances.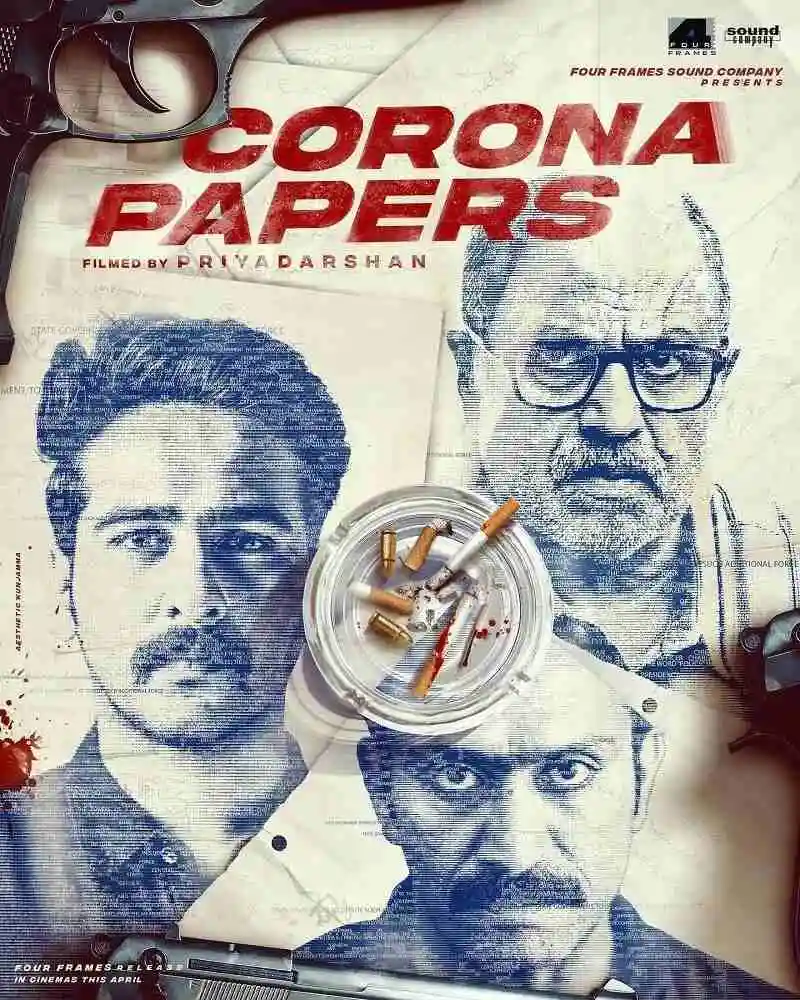 Siddique Steals the Show
Siddique stands out as suspended police officer Sankararaman, delivering an exceptional performance that showcases his talent. He effortlessly handles emotionally intense scenes, adding depth to the film.
A philosophical scene unfolds between Shane Nigam and Siddique, and it's hard to picture any other actor delivering it so effortlessly. And here are few elements around Siddique's character and it added some philosophical layers to this thriller.
For exmple, a scene where Siddique uses Alexander Pope's famous quote "to forgive is divine" that voice modulation is an icing on the cake for that scene.
Some Weak Points
While Shine Tom's character is not insignificant, certain aspects of his role feel disconnected at times.
Shane Nigam excels in emotional scenes alongside Siddique. However, Sandhya Shetty struggles to match their ease. Her acting and dubbing fall short, particularly when sharing the screen with the experienced Siddique, creating a noticeable contrast in their performances.
Additionally, her character Gracy could have been written better. It's not that convincing and there is a lack of depth. It reminds me old Vani Vishwanath era of Mollywood thrillers.
An Anticipated Climax with a Twist
Priyadarshan tried to make this different from typical crime thrillers, the climax of Corona Papers is not a twist but an awaited resolution of the interlocked puzzle.
The film pulls this off decently, but for those expecting a twist, there is one included. However, it feels forced and unnecessary for an otherwise solid thriller.
Experience a sleek thriller with minimal drama,
outstanding acting by Siddique, and
Priyan's masterful visuals.
These three key elements make Corona Papers a must-watch film for thriller enthusiasts.
In conclusion, Corona Papers is a decent crime thriller with a few flaws, but it will undoubtedly keep audiences captivated throughout its runtime.