"Custody" is a 90s-set action thriller that weaves unexpected twists, humour, and charm while falling short in delivering a consistently engaging cinematic experience.
Plot: A Twisted Tale of Duty and Dilemmas
Our story unfolds in the late 90s, with our hero Shiva (Naga Chaitanya), a morally upright police constable. Chaitanya's character name might be inspired by Ram Gopal Varma's Shiva, starring Nagarjuna Akkineni as a young rebel.
His introduction isn't a typical fight scene, he doesn't flex muscles but halts a Chief Minister's ( Priyamani) car to make way for an ambulance.
Next, we're shown his love life, where he's planning to elope with his quirky girlfriend, Revathi (Krithi Shetty). The plot thickens when Shiva, in a twist of fate, gets entangled with a dangerous criminal, Raju (Arvind Swami).
Now, Shiva's mission is to escort Raju to court while dodging the corrupt police officer IG Nataraj (Sharat Kumar) and the entire state police force.
Sounds like quite the thrill ride, doesn't it? But don't get too excited;
It's like expecting a giant fireworks show and only getting a sparkler.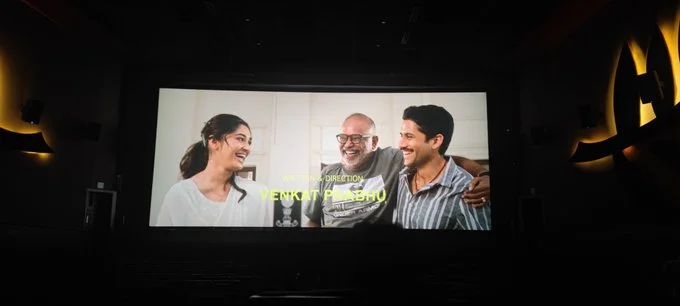 Custody: A Hunt with Missed Opportunities
Venkat Prabhu always aims to mix comedy and thrills in his films. This is like trying to make a tricky cocktail, where the humour is a refreshing breeze on a hot day. However, in "Custody", the comedy didn't hit the mark as expected. Premji seems to have lost the special spark we used to see in other Venkat Prabhu films.
The movie takes some time getting to the main conflict, which can test the patience of the audience. It fumbles when it attempts to explore an emotional backstory, making it feel a tad cliched. The comedy track could also have been sharper, and the action sequences more impactful.
In simple words, it could have been more focussed to the core theme (like Maanadu) and it demands a more brutal editing.
Performances: The Best, The Better, and The Missed Opportunities
In all Venkat Prabhu films, the actors' performances are the beating heart, and it's no different in "Custody." But there is a difference, in Maanadu, you can see a competition between STR & S J Suryah, but here you won't.
Naga Chaitanya as Shiva wears the role of the morally upright constable. His attempt to portray a character is commendable. While he convincingly plays the underdog, there are moments where we feel a seasoned actor could have added more depth and intensity to the role. It's not that he doesn't bring his A-game, but the character of Shiva could have had more facets explored. There are places where the character's emotional depth doesn't quite resonate convincingly. Still, it is arguably one of his best performances yet.
Arvind Swami as Raju is truly the show-stealer in this film. He beautifully balances the serious nature of his character with unexpected elements of humour. This is where the movie triumphs – in its character portrayals. Aravind Swami's portrayal of the hardened criminal is not just intense but also delightfully entertaining. He adds a dash of humour even in the most tense moments, which keeps the narrative engaging. His character is a testament to Swami's versatility as an actor.
Krithi Shetty as Revathy does a good job within the limited scope of her role. Her performance is impressive, and she adds charm to the screen. While her character remains a "nice to have" one in the film to add tension, the screenplay does not offer her much to contribute significantly to the plot. However, she does manage to leave an impact despite being the love interest that does not directly influence the main plotline.
Sharath Kumar as IG Nataraj delivers a strong performance. He embraces the character of the corrupt police officer with ease and manages to exude both menace and class. His screen presence is strong and adds value to the film. But I really wish S J Suryah could have tried the role of I G Natraj.
In addition, the film boasts some starry cameo appearances (I don't want to spoil the surprise) that are sure to thrill the audience. One such cameo is by Ramki, which, despite being cliched, adds a massy feel to the scene.
Aesthetics and Score: An Ode to the 90s
The technical aspects of the film are appreciable.
Rajeevan, the production designer, and Kathir, the cinematographer, did a great job making it feel like you've gone back in time.
Yuvan Shnkar Raja mixed in some of Ilaiyaraaja's older hits that fit right in and sound even better than the new songs.
Lastly, Venkat Prabhu used some references to take you back to the 90's . Like, the main guy's name is 'Shiva', as I mentioned before, it's from a popular 90's movie. Premji's sequences with Mani Ratnam's Mouna Ragam music. 
Why Watch 'Custody': The Final Verdict
In a nutshell: So, should you watch "Custody"?
It's an average thriller cop story with an intriguing plot, some thrilling twists, and memorable performances.
It may not be the best movie you'll watch this weekend, but if you're a fan of Arvind Swami, or classy villains, or if you're in the mood for an okayish thriller with some twists and turns or gripping background score, then go for it.
But don't expect too much, or you might be disappointed. Just sit back, grab your popcorn, and enjoy the Venkat prabhu's Hunt.