"Dahaad," Sonakshi sinha's new Indian web series on Amazon Prime, showcases a serial killer's tale set in a small town in Rajasthan.
Created by Reema Kagti and Zoya Akhtar, the series is inspired by Cyanide Mohan's real-life story.
Mohan Kumar, a former primary school teacher in Dakhina Karnataka region, confessed to poisoning and killing at least 20 women between 2004 and 2009, stealing their jewellery afterward.
Reema Kagti and Zoya Akhtar combo's last thriller, "Talaash" (2012), was my inspiration to watch "Dahaad" on its release day. Talaash(search) was a promising search but Dahaad(Roar) is not Roaring that much.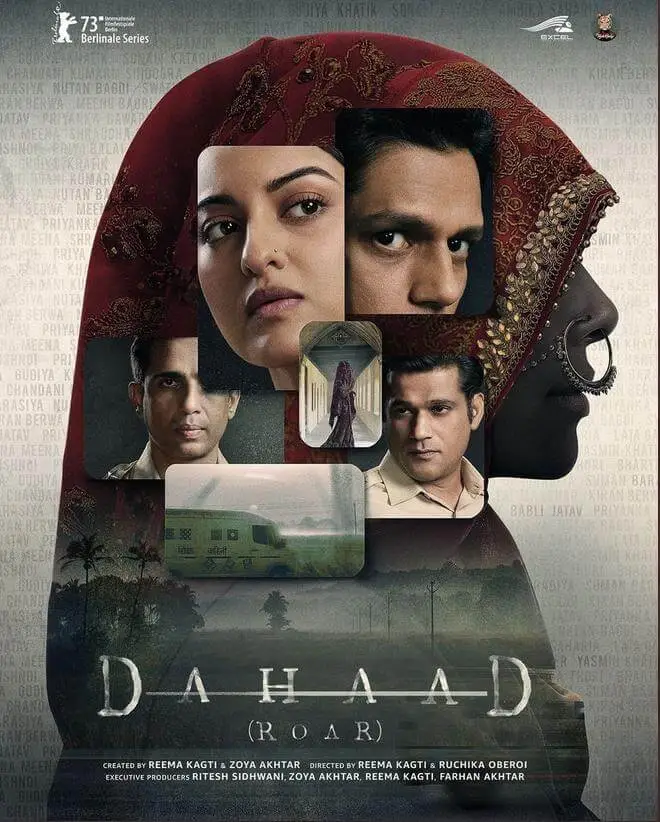 Thrilling Plot with a dashing Villain
"Dahaad" follows the story of Anjali Bhaati, a sub-inspector in the small town of Mandawa, Rajasthan. She's grappling with a disturbing pattern of women's deaths that seem to be suicides but hint at something more sinister. These women all come from economically and socially disadvantaged backgrounds, facing domestic problems like dowry issues, compelling them to elope with lovers.
The common thread?
Their dead bodies are found in public washrooms.
Now, meet Anand Swarnakar, a charming literature professor, husband, and father, living a seemingly ordinary life. But beneath this façade, he's the serial killer that Anjali is relentlessly pursuing. We, the audience, know this from the beginning, and our curiosity is piqued not by who the murderer is but by how Anjali will bring him to justice.
Who! Why! How! & Too Many Sub-Plots
Most thrillers tend to fall into the 'whodunit' category, while some focus on 'how' or 'why.'
"Dahaad," leaving viewers curious about 'why' or 'how.' Unfortunately, "Dahaad" seems to falter in this respect, failing to sufficiently intrigue or clarify these aspects.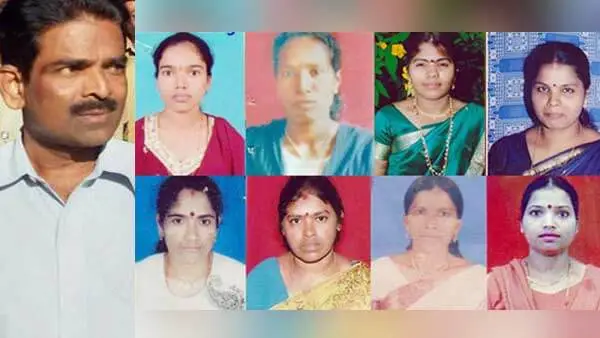 The script is very close to the original incidents in 2009, especially the sub-plots around the fringe Hindu outfits, Mohan Kumar's targets, and Dakshina Kannada Hindutva experiments, and those layers were successful in convincing the audience about the intensity of rumours and propaganda communications.
The series incorporates themes of casteism and patriarchy, but these elements feel somewhat forced and disrupt the narrative flow. Anjali, played by Sonakshi Sinha, is from a lower caste, and her experiences often come into the picture.
However, the incorporation of these societal issues somewhat slows down the pace and diminishes the thrilling vibe of the series.
The series also delves into the personal lives of the cops, a typical trope in cop thrillers. For instance, Pargi, a demoted corrupt officer working with Anjali, grapples with his wife's pregnancy, leading to some melodramatic moments reminiscent of Tamil and Telugu films. This subplot does not blend well with the main storyline, further diluting the series' impact.
The Many Faces of Sonakshi Sinha
Sonakshi Sinha's performance as sub-inspector Anjali Bhaati in "Dahaad" is commendable, but there are a few areas that could have been improved:
Emotional Range: While Sonakshi portrays the strength and determination of Anjali convincingly, there are moments where her emotional range seems limited. Key scenes that require a deep display of emotion, such as anger, fear, or grief, sometimes come off as underplayed.

Character Development: While this is more of a script issue than a performance flaw, Sonakshi's character isn't as fleshed out as it could be. We don't get a thorough exploration of Anjali's backstory or her motivations, which limits Sonakshi's ability to bring depth to her character.
Dialogue Delivery: Although Sonakshi delivers most of her lines effectively, there are instances where her dialogue delivery could have been more impactful. Particularly during intense scenes, her delivery doesn't always match the gravity of the situation.
Vijay Varma: A Masterclass in Acting
Vijay Varma's performance in "Dahaad" is one of the highlights of the series. As Anand Swarnakar, a literature professor who is also a serial killer, he is captivating and terrifying in equal measure.
Character Portrayal: Vijay masterfully embodies the dual nature of his character – a respected teacher and family man on one hand, and a cold-blooded killer on the other. The ease with which he switches between these two personas is chilling and keeps the viewers engaged.
Emotional Range: Varma displays a wide emotional range in his portrayal of Anand. Whether he's playing the caring teacher or the ruthless murderer, his performances are always believable and evoke strong reactions from the audience.
Physicality: Varma's use of physicality to convey his character's emotions is exceptional. His body language and facial expressions perfectly mirror the mental state of his character, adding an extra layer of realism to his performance.
Screen Presence: Varma has a commanding screen presence that draws the audience's attention. Every scene he is in becomes more intense and gripping because of his performance.
Why You Should Watch "Dahaad"
Engaging Plot: "Dahaad" provides an engaging plot that revolves around a serial killer and a dedicated police officer's pursuit. The blend of crime drama and social themes like "Love Jihad", gender disparities, and the exploitation of women, makes it a thought-provoking watch.
Vijay Varma's Performance: Vijay Varma delivers a stellar performance as the literature professor turned serial killer. His portrayal of the character is captivating and chilling, making it a highlight of the series.
Cinematography: The series' cinematographer, Tanay Satam, skillfully captures the landscapes and settings of the small town in Rajasthan, encapsulating the raw essence and tension of the story. The utilisation of natural light and atmospheric hues further enhances the authentic feel of the series, contributing to its overall aesthetic appeal.