Are you keen on catching the latest OTT releases this week? From thrilling spy genres to unconventional superhero movies, the list is exciting.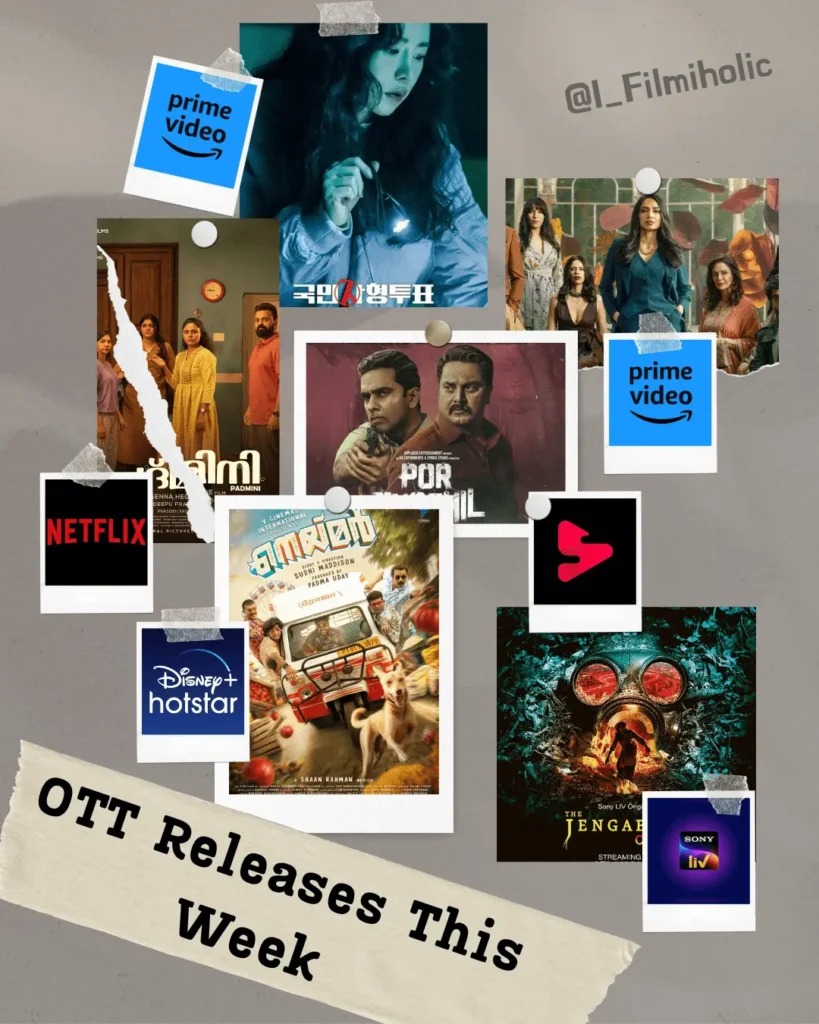 Por Thozhil: An Intelligent Twist to Investigative Thrillers
OTT Platform: SonyLiv
Directed by: Vignesh Raja
Cast: Sarath Kumar, Ashok Selvan, Nikhila Vimal
Plot Synopsis:
Por Thozhil follows seasoned police officer Lokanathan and young recruit Prakash as they join forces to nab a serial killer. A tale of intelligence and cooperation, the film transcends the typical buddy cop formula to delve into a more sophisticated story of action and intrigue.
Highlights:
Smart writing sets Por Thozhil apart from other investigative thrillers. The unlikely pairing of Sarath Kumar's veteran wisdom and Ashok Selvan's youthful ingenuity brings freshness to the genre.
Though the film draws inspiration from classics like Stray Dog and Lethal Weapon, it finds a unique spot with its combination of suspense, action, and intelligence.
The Jengaburu Curse: Noble Intentions Overshadowed by Overwhelming Drama
OTT Platform: Sonyliv
Directed by: Nila Madhab Panda
Cast: Faria Abdullah, Nasser, Makarand Deshpande, Sudev Nair, Deipak Sampat, and Hitesh Dave
Plot Synopsis:
Far removed from her Adivasi origins in London, Priya Das (Faria Abdullah) is thrust into the mysteries of her past when her activist father, Swatantra, disappears. The backdrop is Jengaburu, an ancestral village now under the iron grip of a mining company led by the unscrupulous Srinivas.
Local legends warn of a dragon king sleeping beneath the village, a creature that mustn't be stirred. Yet, with each explosion and machine rumble, an ancient curse seems poised to awaken.
Highlights:
The Jengaburu Curse commendable foregrounds the Adivasi narrative and the contentious realm of Indian mining, an effort far more nuanced than similar takes like Aar Ya Paar (2022).
The series boasts an ensemble cast that shines in their roles, with Faria Abdullah's portrayal of Priya being particularly spirited.
While the series is based on a compelling premise, it often finds itself ensnared by the trappings of its thriller genre.
Over-dramatization, convenient plot developments, and drawn-out scenes at times detract from the core message.
Made in Heaven: Season 2 – A Rich Tapestry of Indian Weddings and Social Realities
OTT Platform: Amazon Prime
Directed by: Zoya Akhtar, Reema Kagti, Neeraj Ghaywan, Alankrita Shrivastava, and Nitya Mehra
Cast: Sobhita Dhulipala, Arjun Mathur, Jim Sarbh, Kalki Koechlin, Vijay Raaz, among others.
Plot Synopsis:
Season 2 of Made in Heaven witnesses the return of Tara Khanna and Karan Mehra, our favourite wedding planners from Delhi. Diving deep into the opulent world of Indian weddings, the season unravels not just the grandeur of these ceremonies, but the undercurrents of societal norms, personal aspirations, and familial expectations. Picking up from where it left off, Tara's personal life is in turmoil while Karan grapples with his sexuality.
Highlights:
This season magnifies its focus on complex issues, with episodes like Neeraj Ghaywan's Dalit wedding narrative, featuring a formidable Radhika Apte, standing out.
Secondary characters add depth, notably Trinetra Haldar Gummaraju's resonating storyline. However, amidst the multitude of narratives, Sobhita Dhulipala's Tara feels slightly subdued.
Overall, Made in Heaven: Season 2 offers a layered exploration of contemporary Indian society, intertwining the allure of weddings with hard-hitting social commentaries.
Neymar: A Lighthearted Bond with Man's Best Friend
OTT Platform: Hotstar
Directed by: Sudhi Maddison
Cast: Mathew Thomas, Naslen K Gafoor, Shammi Thilakan, Yog Japee
Plot Synopsis:
In Neymar, the directorial debut of Sudhi Maddison, the bond of friendship intertwines with the love for a dog, leading to a series of unforeseen adventures. Centered around Aakamsh and Shinto, staunch supporters of the Brazil football team and admirers of its star player Neymar, the story takes a twist when an indie dog, named Neymar, enters their lives. From dreaming about aviation careers to a whirlwind quest in Pondicherry to retrieve Neymar from a formidable new owner, the film serves an intriguing cocktail of comedy and chaos.
Highlights:
While the narrative takes a relaxed pace in its Kothamangalam setting, the momentum magnifies when the backdrop shifts to Pondicherry.
The camaraderie between Mathew and Naslen is palpable, though their established chemistry sometimes feels repetitive. Yet, it's the veterans like Vijayaraghavan, manifesting as the vibrant Chackola, who leave an indelible mark.
Despite its predictability, the film scores with its heartwarming moments, especially those involving the titular dog.
For those seeking light-hearted entertainment, Neymar is a delightful pick.
Maaveeran: The Voice Within – An Audacious Superhero Story
OTT Platform: Amazon Prime
Directed by: Madonne Ashwin
Cast: Sivakarthikeyan, Yogi Babu, Mysskin, Sunil, Saritha, Adithi Shankar
Plot Synopsis:
In the bustling streets of Tamil Nadu, Sathya, a humble comic-book artist, sketches tales of valor. His life, shadowed by poverty and the need to protect his family, takes a radical shift when a mysterious voice (akin to the 'Maveeran' from his comics) begins forecasting imminent events. This auditory guide, coupled with socio-political upheavals, thrusts him into an extraordinary journey. As structures crumble and systems fail, Sathya grapples with his newfound 'precognition' power, while also confronting his own inhibitions.
Highlights:
Maaveeran brilliantly juxtaposes a superhero narrative with underlying political tones.
Sivakarthikeyan's rapport with comedic genius Yogi Babu enlivens the film, adding layers of humour amidst intense sequences.
Noteworthy is the film's audacity to challenge and subvert traditional superhero tropes while still catering to the commercial palette.
The dynamics between supporting characters, notably Sunil and Mysskin, are intricately woven, ensuring every subplot gets its deserving closure.
Padmini: A Humorous Dive into Societal Scrutiny
OTT Platform: Netflix
Directed by: Senna Hegde
Cast: Kunchacko Boban, Aparna Balamurali, Madonna Sebastian, Vincy Aloshious.
Plot Synopsis:
Amidst the buzzing chatter and societal judgements, Rameshan's life takes an unexpected turn when his wife, Smrithi, elopes on their wedding day. Left to face the brunt of the village's ridicule, Rameshan, a poet and lecturer, embarks on a comedic journey to find love once again. Amidst the chaos, parallel narratives unfold, touching upon modern relationships, societal norms, and the quirks that bind us all together.
Highlights:
Hegde's signature style of highlighting societal intricacies remains intact.
Kunchacko Boban excels as the heartbroken Rameshan, whose endeavours in love, interspersed with comedic interactions with his brother-in-law (portrayed by Anand Manmadhan), form the essence of the film.
A standout subplot showcases advocate Sreedevi's (Aparna Balamurali) turbulent relationship with her over-protective fiance Jayan (Sajin Cherukayil). The inclusion of fictional brand advertisements, reminiscent of Tarantino-esque style, adds a quirky flavour.
Other Exclusive OTT Releases This Week
Vaan Moondru
OTT: Aha
Director: Amr Murugesh
Writer: Amr Murugesh
Stars: Ammu Abhirami, Aditya Badekar, Delhi Ganesh
Plot Synopsis:
A timeless romantic narrative that intricately binds six individuals, Vaan Moondru beautifully transcends societal norms surrounding age and relationships. This poignant tale of love paints a vivid picture of evolving relationships and emotions.
Hidimbha
OTT: Aha
Director: Aneel Kanneganti
Stars: Ashwin Babu, Nandita Swetha
Plot Synopsis:
Set in the heart of Hyderabad, "Hidimbha" unravels a chilling medical mystery. As two diligent police officers embark on an inquiry into a peculiar case, the city witnesses a series of disappearances. Strikingly, all victims are young girls, bound by one intriguing similarity. As the plot thickens, truths emerge, and a sinister game begins.
The Killing Vote
OTT: Amazon Prime
Director: Park Shin-Woo
Writer: Eom Se-Yoon
Stars: Park Hae Jin, Park Sung Woong, Lim Ji Yeon
Plot Synopsis:
In an unsettling world where justice is questionable, "The Killing Vote" dives deep into the unsettling game of death penalty voting. Every adult citizen is polled. If majority votes favor the death sentence, the mysterious Gae Tal (Dog's Tail) exacts lethal justice on offenders who exploit the system's flaws. As the narrative unfolds, moral dilemmas arise, questioning societal norms and individual agency.
Heart Of Stone
OTT: Netflix
Stars: Alia Bhatt, Gal Gadot
Plot Synopsis:
Join the espionage world with "Heart of Stone." Gal Gadot, celebrated globally for her iconic role as Wonder Woman, takes center stage in this thrilling spy drama. Taking cues from franchises like "Mission: Impossible" and "James Bond," Netflix ventures into the realm of spy thrillers, positioning Gadot in a pioneering role. As intrigue, action, and suspense merge, "Heart of Stone" is poised to establish its niche in the spy genre.