Are you waiting for the latest OTT releases this week? From I Love You(Jio Cinema) to Black Clover: Sword of the Wizard King (Netflix). Thrillers, Romance, Animes, Action…the list is long and diverse.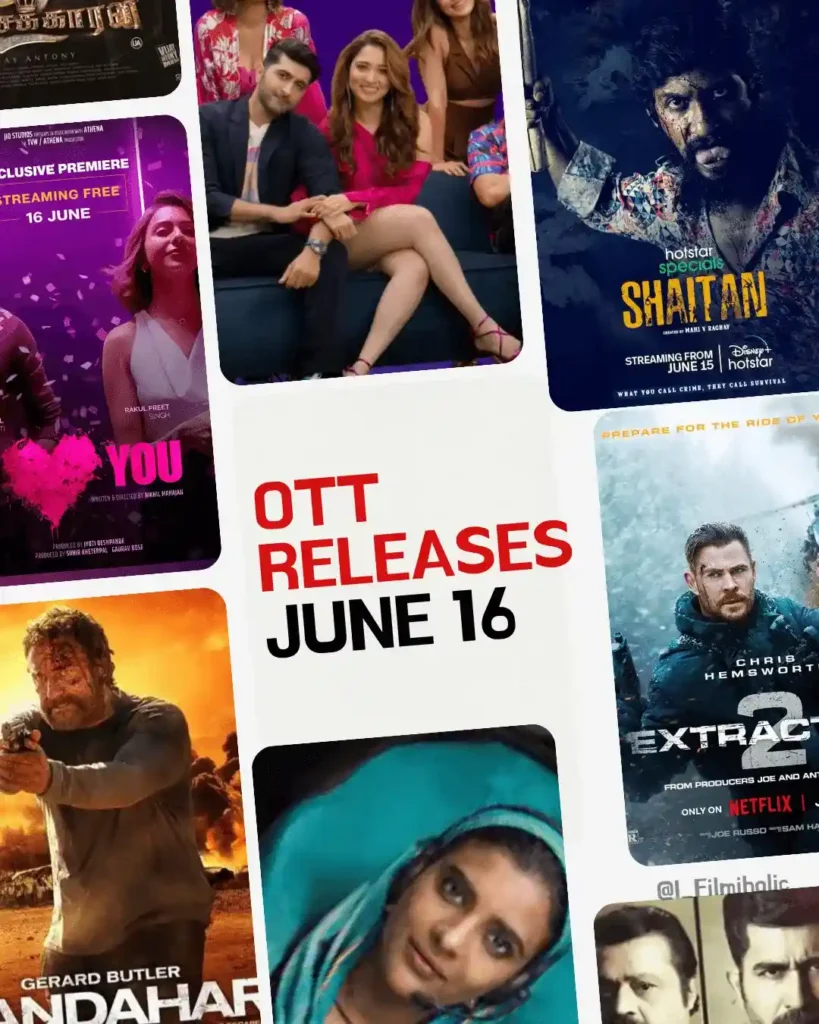 1. I Love You – A Twisted Tale of Love and Revenge
OTT Platform: Jio Cinema (Hindi)
Directed by: Nikhil Mahajan
Cast: Rakul Preet Singh, Pavail Gulati, Akshay Oberoi, Kiran Kumar
Plot Synopsis
"I Love You," directed by Nikhil Mahajan, known for his successful Marathi film "Godavari," is an unconventional romantic thriller that promises to defy expectations. The plot revolves around Satya Prabhakar (Rakul Preet Singh), an independent working woman in Mumbai, whose life takes a drastic turn just when she decides to advance her relationship with her love interest. As the story unfolds, it takes the audience on a thrilling journey of revenge and justice that Satya seeks.
The trailer, already captivating the viewers, introduces a complex love triangle involving Satya, Pavail Gulati, and Akshay Oberoi's characters. As the tale progresses, it uncovers a web of betrayal and murder that hints at an exciting and suspense-filled narrative that challenges conventional notions of love stories.
2. Tamilarasan – 'Paasam' filled with Courage and Justice
OTT Platform: Zee5 (Tamil)
Directed by: Babu Yogeswaran
Cast: Vijay Antony, Suresh Gopi, Sonu Sood, Remya Nambeesan
Plot Synopsis
Tamilarasan (Vijay Antony), a dedicated cop, and his wife Leena (Remya Nambeesan) are hit with a heavy blow when they learn that their son Prabhakar (Pranav Mohan) has a weak heart that requires an immediate transplant. However, the hospital where they admit him prioritizes profits over patients, making Prabhakar's life a low concern. This infuriates Tamilarasan, who takes heart specialist Dr. Muruganantham (Suresh Gopi) hostage to ensure his son's treatment. All the while, his corrupt superior Rana Pratap Singh (Sonu Sood) is eager to bring him down. The film follows Tamilarasan's desperate struggle to save his son, battling a system steeped in greed and corruption.
Why You Should Try
The performances by Vijay Antony and Suresh Gopi, along with the supporting cast, add to the intense and dramatic narrative. The movie's attempt to address issues like medical corruption and the importance of organ transplantation, although not without flaws, offers food for thought.
Why You Should Skip
The movie is stuffed with melo-drama. Some of the serious scenes might seem funny by accident, and the movie doesn't do enough research on organ transplantation, which makes the story less believable.The movie also suffers from an underdeveloped script and a lack of character depth.
3. Kandahar – An Underwhelming Journey Through Hostile Territory
OTT Platform: Amazon Prime (English)
Directed by: Ric Roman Waugh
Cast: Gerard Butler, Ali Fazal, Navid Negahban, Bahador Foladi
Plot Synopsis
The plot follows the adrenaline-fueled journey of undercover CIA operative, Tom Harris (Gerard Butler), whose mission in the hostile territory of Afghanistan takes a dangerous turn when an intelligence leak exposes his identity. He must navigate through perilous obstacles to an extraction point in Kandahar, avoiding an elite special forces unit out to get him. Ali Fazal plays the role of Kahil, involved in a dangerous game of cat and mouse with Butler's character.
Why You Should Try
It is based on the true events from the life of a former military intelligence officer. If you are a fan of Gerard Butler or Ali Fazal, their performances might be a reason to give this film a try. The film's brilliant cinematography and the gripping narrative, drawing inspiration from real-life events, could provide an exciting cinematic journey.
Why You Should Skip
Despite its promising premise, Kandahar seems to have fallen short of delivering a thrilling action film. The film also brings up social issues, such as the oppression of women, but fails to address them meaningfully, which may frustrate viewers seeking a deeper narrative. Kandahar's Western saviour narrative may seem uninspired and xenophobic. This film might not be for those seeking fresh, compelling narratives or exciting action sequences in the genre.
4. Extraction 2 – The Return of the Rake: No Boundaries, No Mercy
Platform: Netflix (English)
Director: Sam Hargrave
Main Cast: Chris Hemsworth, Golshifteh Farahani, Adam Bessa
Plot Summary
Extraction 2, the much-anticipated sequel to Netflix's 2020 hit, brings back the formidable mercenary Tyler Rake, played by Chris Hemsworth. This time, Rake must rescue a Georgian gangster's family from a foreign prison.
Aiming to deepen Rake's backstory, the sequel introduces new characters and offers more insight into Rake's motivations. The film promises high-octane action, including a stunning 21-minute escape scene featuring Hemsworth himself. Director Sam Hargrave raves about Hemsworth's commitment to his role, commending his physical and emotional performances.
5. Shaitan – A Bold Take on Survival and Crime
OTT Platform: Disney+ Hotstar (Telugu)
Directed by: Mahi V Raghav
Cast: Rishi, Shelly, Deviyani, Jaffer Sadiq, Ravi Kale, Lenaa
Plot Synopsis
Shaitan focuses on a family of four struggling to survive in the toughest conditions. Each family member resorts to a life of crime, which they see as a means of survival. The series paints an unfiltered picture of the socio-political circumstances that trigger Bali, the head of the family, into a world of crime. The rise and fall of this criminal family form the crux of this gripping Telugu crime drama.
Why You Should Try
Shaitan may appeal to those who appreciate intense crime dramas that shed light on the darker aspects of society.
Why You Should Skip
Shaitan is filled with explicit content, strong language, and graphic violence, making it unsuitable for sensitive viewers. It pushes boundaries with its bold scenes and disturbing elements, which might not appeal to everyone.
6. Farhana – A Tale of Empowerment Amidst Struggles
OTT Platform: SonyLiv (Multi-Audio)
Directed by: Nelson Venkatesan
Cast: Aishwarya Rajesh, Selvaraghavan, Jithan Ramesh, Anumol, Aishwarya Dutta
Plot Synopsis
Farhana (Aishwarya Rajesh), a Muslim woman from a conservative family, starts working due to financial difficulties. She ends up in a job that involves talking to desperate men seeking female companionship. Over time, she grows comfortable with the work, as it improves her family's living conditions. Things spiral out of control when she breaks company rules and tries to meet a frequent caller.
Why You Should Try
Farhana is an intriguing drama that highlights empowerment and the freedom of choice. Aishwarya Rajesh delivers a standout performance, bolstered by a nuanced script and strong supporting cast. The film creatively employs symbolism and parallels, making it a thought-provoking watch. Its suspenseful narrative and the impactful portrayal of a woman's fight against societal norms could be engaging for many viewers.
Why You Should Skip
Farhana might not suit everyone due to its pacing issues and some plot points that might stir controversy. Some scenes and dialogues may unintentionally evoke laughter, and the hurried climax might not satisfy everyone. If you are uncomfortable with the depiction of certain regressive societal viewpoints or prefer a lighter narrative, Farhana may not be your cup of tea.
7. Bichagadu 2 (Pichaikkaran 2)
OTT Platform: Disney + Hotstar (Telugu)
Director, Music Director, Editor: Vijay Antony
Cast: Vijay Antony, John Vijay & Kavya Thapar
Plot Synopsis
In Bichagadu 2, Vijay Antony takes on the roles of a billionaire named Vijay Gurumoorthy and a beggar named Sathya. The story twists when Sathya, with a hard past, is a victim of an illegal brain transplant that forces him into the life of a billionaire.
Why You Should Try
The film tries to build a new narrative using the original movie's framework, which might appeal to fans of the first instalment.
Why You Should Skip
The movie falls short due to its lackluster storyline and simplistic treatment of a classic double-action trope. The supporting characters, action scenes, and songs are forgettable, diminishing the overall impact.
8. Raavana Kottam – Clash of Castes, Clash of Ideals
OTT Platform: Amazon Prime (Tamil)
Directed by: Vikram Sugumaran
Cast: Shanthnu Bhagyaraj, Prabhu, Anandhi, Sanjay Saravanan
Plot Synopsis
Raavana Kottam is set in Ramnad district where the village is divided into Meltheru and Keezhtheru, both living peacefully due to the influence of respected villager Chandrabose (Prabhu) and his son Sengu (Shanthnu). Sengu's love for Indhira (Anandhi) creates tension between Meltheru and Keezhtheru, leading to the destruction of their harmony. This clash is further exploited by politicians for their gain. The film ends on an emotional note, highlighting the exploitation of innocent villagers by power-hungry politicians.
Why You Should Try
The film stands out for its socio-political narrative that deals with caste politics, water scarcity, and corporate mafia. Shanthnu's performance is commendable, and he tries to hold the film singlehandedly. The landscape of the Ramnad district is beautifully captured.
Why You Should Skip
Raavana Kottam has its flaws, with a lack of depth and impact being major ones. The humour falls flat, and the film suffers from one-dimensional characters. The narrative is not powerful enough to hold your attention throughout. If you prefer movies with well-rounded characters and a strong, focused storyline, Raavana Kottam might disappoint you.
9. Jee Karda – A Tale of Love, Friendship, and Understanding
OTT Platform: Amazon Prime (Hindi)
Directed by: Arunima Sharma
Cast: Tamannaah Bhatia, Suhail Nayyar, Aashim Gulati
Plot Synopsis
Set amidst a group of seven childhood friends, Jee Karda is a tale of love, friendship, and unexpected realisations. At present, two of the friends decide to get married, but they start to realise that they might not be in love after all. The movie follows them as they deal with the challenges of their relationship and try to figure out what they really want.
Why You Should Try
Last week, Tamannaah was trending on Twitter. I believe Tamannaah Bhatia and Suhail Nayyar are the biggest reasons to watch this movie. The movie is trying to explore the complicated love-friendship spectrum of urban couples.
Why You Should Skip
If you are looking for an intense drama or a great romantic movie, Jee Karda might not cater to your taste. The movie's deep focus on the celebration of friendships and romantic relationships, and the lack of depth in characters or plot elements might not be okay with all viewers. If you love dramas like Tu Jhoothi Main Makkaar
Go for it, or else skip it.
10. Black Clover: Sword of the Wizard King
OTT Platform: Netflix
Directed by: Ayataka Tanemura
Plot Synopsis
Black Clover: Sword of the Wizard King is a highly anticipated film in the Black Clover franchise, following the hit anime series. Set to unravel an all-new story, the film brings viewers back to the Clover Kingdom after a hiatus since the season four finale.
The protagonist, Asta, will encounter the former Wizard King and a host of new and familiar characters. Although the storyline details are currently under wraps, fans can anticipate thrilling battles and stunning animation.
The original manga creator Yūki Tabata is serving as the movie's chief supervisor and original character designer. Key members of the television anime staff will be returning for the film, under the direction of Ayataka Tanemura. The film will boast of character designs by Itsuko Takeda and music composition by Minako Seki.
Other OTT Releases this week
Vamanan (Malayalam)
OTT Platform: Manorama Max
Rafuchakkar
OTT Platform: Jio Cinema