In this post, we will see why 'Memories of Murder' a must watch Korean thriller, where to watch "Memories of Murder" & then I will share 6 More Thrillers similar to "Memories of Murder" in the end.
"Memories of Murder", originally titled "Salinui chueok", is a spellbinding film that takes you on a journey into the heart of a real-life mystery.
Language: Korean
Director: Bong Joon Ho (Director of Parasite)
Genre: Action, Crime, Drama
What is the story of 'Memories of Murder'
The story unfolds in 1986 in the provincial town of Hwaseong, South Korea.
The tranquility of the town is shattered when the bodies of two raped and murdered women are discovered.
Local detectives, Park and Cho Yong Koo, had to figure out who did it.
As they grapple with the mounting pressure, the investigation reveals a chilling pattern – all the murders occur in the rain, and the same haunting melody seems to echo in the background each time.
They first thought a man named Baek, who had a mental disability, could be the one behind the bad things. But then, Detective So Tae from Seoul came to help. He thought differently, which made the investigation more complicated. Right and wrong seemed to mix up.
Could they find the bad guy, or was he hiding among them?
As the story went on, they started to suspect a factory worker named Pak Hyun-gyu. He fit the pattern of the crimes. But they had to try something new and unsure to prove it – DNA testing, something not common in Korean investigations back then.
But, I won't ruin the surprise for you.
Let's just say things aren't always what they seem, and sometimes the truth is harder to find than you'd think.
Why it's a Must Watch Korean Thriller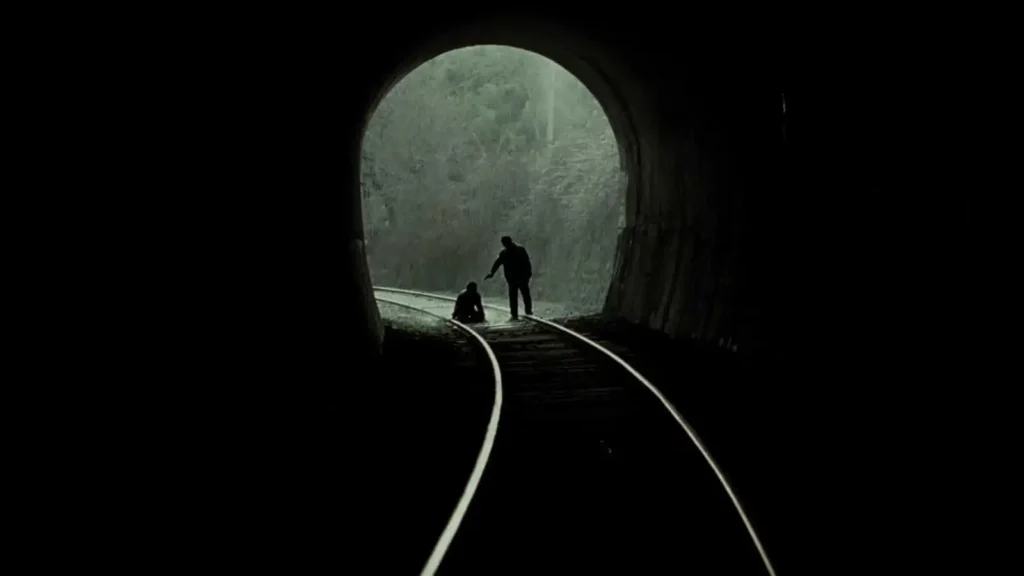 "Memories of Murder" is a great example of storytelling.
It mixes real-life events and made-up stories to create a movie that you won't forget even after it's over.
This movie is not just about solving a crime. It also talks about society and the times when the crime happened. Movie shows the fear and confusion people felt when a psycho was hurting others and nobody could catch him. It also shows how the law was struggling to stop him.
The movie's realistic portrayal of the investigative process, the nuanced performances, and the meticulous attention to detail make "Memories of Murder" a standout film in the crime thriller genre.
The narrative skillfully maintains a balance between fact and fiction, providing an immersive experience that both educates and entertains the viewer.
The cinematic techniques employed in the film, such as the use of weather and music to set the mood and pace, further enhance the storytelling.
Where to watch "Memories of Murder" ?
Unfortunately, this movie is not availaible in any streaming sites in India. If you couldn't find any streaming site from your country.
Watch 'Memories of Murder" here or Download it here.
If you have seen this movie, let me help you with some questions.
What is "memories of murder" based on? What case is memories of murder based on?
"Memories of Murder" is based on the real-life case of the Hwaseong serial murders, which occurred in South Korea between 1986 and 1991. The Hwaseong serial murders is the first recorded case of serial killings in South Korea, with ten women being brutally raped and murdered over a period of five years.
Is "Memories of murder" a true story? How much of "Memories of murder" is true?
The movie is a fictionalized version of these events, and while it follows the overarching narrative of the investigation, it includes fictional characters and dramatized events for cinematic purposes.
As such, it's not a documentary-style retelling, and it takes creative liberties for storytelling. Therefore, it's not entirely accurate to say that "Memories of Murder" is completely true, but it's based on true events.
Who is the killer in "memories of murder" ?
The identity of the killer remained a mystery for decades, even after the release of the movie. In the film, the killer's identity is left ambiguous.
However, in reality, the case was reopened and solved in 2019.
Over 13 years after the movie came out, there was a big update. On September 18, 2019, police named a suspect in the Hwaseong serial murders. This man, Lee Choon-jae, was in his 50s. DNA evidence tied him to the crimes.
They found a match between his DNA and DNA from a victim's underwear. Tests also linked him to four other unsolved murders. The film didn't reveal the killer's identity, but in reality, they found the answer after more than 30 years.
This fact adds a scary endnote to "Memories of Murder".
Which are some movies like "Memories of murder" ?
If you're looking for movies that are similar to "Memories of Murder," you might be interested in films that combine elements of crime, mystery, and suspense with strong storytelling and character development.
Here are a few suggestions:
Zodiac (2007)
"Zodiac" (2007): Directed by David Fincher, this movie is based on the true story of the hunt for the Zodiac Killer in San Francisco during the late 1960s and early 1970s. Like "Memories of Murder," it's a procedural thriller that focuses on the investigators and journalists obsessed with the case.
The Chaser (2008)
"The Chaser" (2008): This is a South Korean action thriller about a former detective turned pimp who is on a desperate search to find some of his missing girls. As he unravels the truth, he finds himself up against a brutal serial killer.
Prisoners (2013)
"Prisoners" (2013): Directed by Denis Villeneuve, this film is about the search for two young girls who go missing in a small town, and the lengths one of the fathers (played by Hugh Jackman) is willing to go to find them.
Children (2011)
"Children" (2011, South Korea): This chilling movie is based on true events. In 1991, five children left their homes to catch frogs and never returned. The search for them unravels a story that will leave you on the edge of your seat.
Memories of a Killer (2017)
"Memories of a Killer" (2017, South Korea): This film tells the story of a serial killer who stopped his murderous spree 17 years ago. Now, he lives with his adult daughter and is battling the early stages of Alzheimer's. But when he stumbles upon a car with blood leaking from the trunk, his past comes rushing back.
Montage (2013)
"Montage" (2013, South Korea): This film jumps between the past and the present. 15 years ago, a girl was kidnapped and neither she nor her kidnapper were ever found. Now, someone is leaving flowers at the original crime scene and another person goes missing, reigniting the investigation.
These movies, like "Memories of Murder," deliver suspenseful narratives that revolve around crime, justice, and the human capacity for both good and evil. They will surely keep you engaged and invested in their stories.
For more recommendations and reviews, click here.