Have you ever witnessed a crime that changed your life forever? Imagine finding yourself trapped in a deadly game of cat and mouse, pursued by ruthless criminals. What would you do to survive? The South African action thriller Hunting Emma directed by Byron Davis is about such an incident.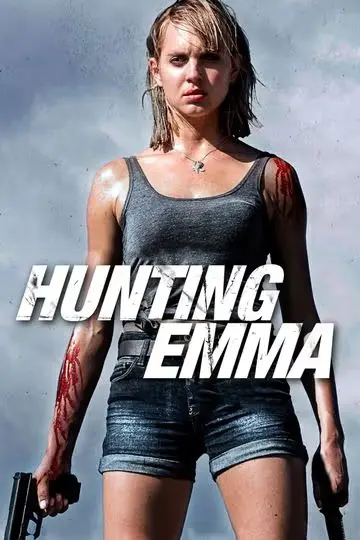 A Teacher, A Drug Lord , A Crime & A Past
Emma le Roux, a pacifist kindergarten teacher, starts a trip to visit her father in the Karoo region. However, her journey takes a dark turn when she becomes an inadvertent witness to a horrifying crime. Suddenly, Emma finds herself in grave danger, caught between the criminals and her own will to survive.
A drug syndicate, led by the menacing Bosman (Neels van Jaarsveld), is attempting to transport a cache of drugs along the road. The group, consisting of his henchmen Baz and Jay, as well as AJ and Boela, two rich boys seeking notoriety, and Bosman's nervous cousin Piet, crosses paths with Emma.
As the criminals close in on her, Emma's peaceful nature gives way to a fierce determination. She taps into the skills her ex-Special Forces Commando father instilled in her during years of training. Emma transforms from a pacifist into a force to be reckoned with, willing to do whatever it takes to survive.
Get ready for a deadly game of cat and mouse.
Leandie du Randt: Woman On Fire
Despite a small budget and lesser-known actors, Hunting Emma strikes gold with its performances. Leandie du Randt, in the lead role of Emma, delivers an intensely believable performance.
She reminds me of Cristine Reyes in Maria (2019). Her transformation from a peace-loving schoolteacher to a woman on the run is both convincing and riveting. It's a well-developed character arc.
Where to Watch 'Hunting Emma'?
You can watch this movie visiting dailymotion or youtube. In both the platforms, some kind-hearted human being uploaded the movie with subtitles.
Hunting Emma, watch here with subtitles.
There is Nothing New, Still It Works!
There is nothing new about the plot: A History of Violence, No Country for Old Men, Nobody, Man on Fire, Taken, Equaliser, Maria (2019), and Man from Nowhere—all these films use the same template. Even the recent Indian films Vikram and Kaithi follow the same structure.
They feature a compelling character with a unique set of skills who is often brought out of retirement or their peaceful existence to confront some form of injustice.
They follow a familiar formula: a protagonist with a past, a catalyst for action (often an injustice suffered by the protagonist or their loved ones), and a subsequent series of escalating confrontations culminating in a cathartic resolution.
The repetitive use of this formula doesn't lessen its appeal. That's the beauty of this template. Why?
Psychology Behind This Template
Here, the heroes are not one-dimensional; they carry emotional baggage, past regrets, and personal demons, just like real people do. Watching them confront and overcome their past as they struggle against the external threat can be very satisfying for audiences.
Catharsis: In modern psychology, this has been associated with the idea of emotional release and the benefit of expressing emotions. The intense situations and violent encounters in these films can provide a form of vicarious catharsis for audiences, offering a sense of relief or even exhilaration.
From the perspective of a scriptwriter, these patterns serve both practical and artistic purposes. On the practical side, they provide a structure that guides the progression of the narrative, helps maintain tension and pace, and keeps audiences engaged.
On the artistic side, these patterns allow writers to explore different facets of a character's personality, their moral and ethical boundaries, and how they evolve over the course of the narrative.
Script writer Deon Meyer did an excellent job considering this aspect.
Why Hunting Emma is a Must Watch!
So, Hunting Emma got a tick for all the above reasons, and I highly recommend it for you.
Hunting Emma is a unique blend of intense action, suspense, and character development.
The film takes us on a thrilling ride through the South African wilderness, showcasing both the beauty of the landscape and the depths of human determination. Great work from cinematographer William Collinson.
If you're tired of the same old Hollywood blockbusters and you're open to trying something new, then this South African Thriller might be the breath of fresh air you need.
So, are you ready to try a thriller from the other side of the world?
Are you going to give Hunting Emma a watch? Let me know in the comments!