I was searching for a thriller webseries and chose Vyavastha a Zee5 webseries based on its intriguing one-liner:
"On their wedding night, Yamini (Hebah Patel) is arrested for her husband's murder. Vamsi (Karthik Rathnam), a young lawyer who cares for her, takes her case and tries to save her from Chakraborty (Sampath Raj), a crooked and influential lawyer in the city."
Sounds interesting, right?
However, although it looks great on paper, the on-screen result is a cliched webseries that follows Vamsi as he tries to prove Yamini's innocence while battling a corrupt lawyer.
Vyavastha webseries suffers from poor execution and weak scripting, making it worth watching only once if you're interested in courtroom dramas.
Poor Direction and Below Average Screenplay
Director Anand Ranga establishes a promising premise with a strong foundation for an engaging legal battle. The first episode reminds me of the 2020 Netflix series "Raat Akeli Hei."
However, from the second episode, I realized that the series is a mediocre attempt with a template screenplay filled with some predictable and insipid events.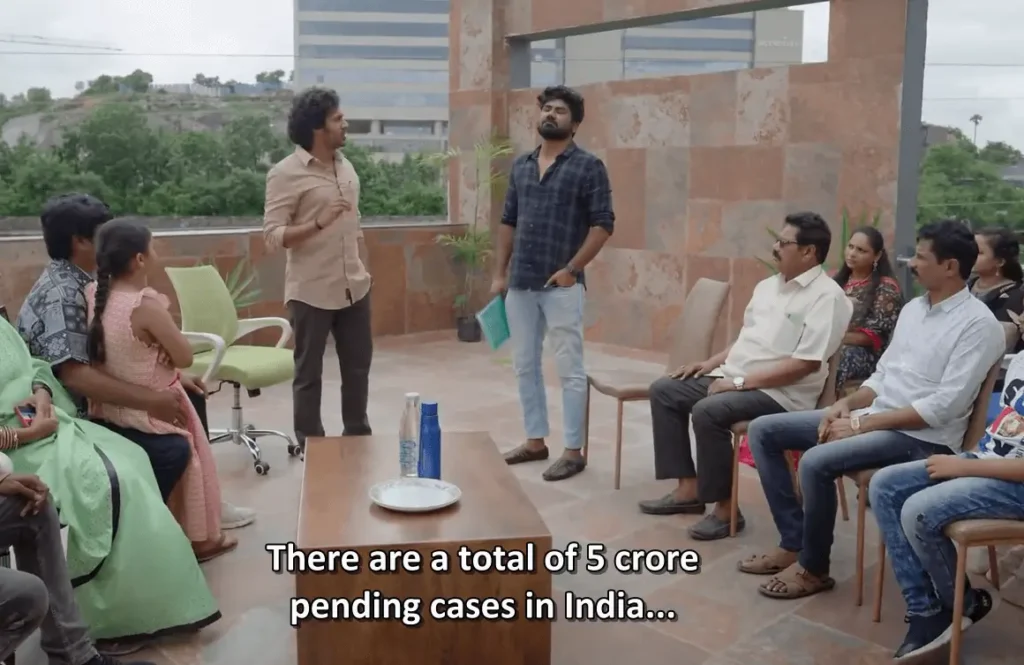 The intensity and emotional depth are lacking, but to some extend, Karthick Rathnam's performance helps balance these shortcomings. The subplots and conflicts, which could have enriched the story, are underdeveloped and lose momentum as the series progresses.
Vyavastha starts with a bang, but then it's just a humming from episode 2 to episode 7, and finally, in episode 8, you can see a rushed conclusion that may also leave you unsatisfied.
I believe that after the first episode, you can directly watch episode 8, and it won't make much difference even if you skip the episodes in between.
Performances & Technical Aspects
Karthik Rathnam impresses as Vamsi, a lawyer committed to justice, while Sampath Raj's ruthless and greedy lawyer Chakraborty boasts a strong presence. Hebah Patel provide a decent performance within her characters' limitations, and it was a surprise to see Kamna Jethmalini after a gap, nothing more to say about her character.
Anil Bandari's cinematography is adequate, but the law firm sequences could have used a more polished presentation. There isn't much to say about the art department, as it's even worse. The courtroom setup is unconvincing. Vyavastha is suffocating at multiple places because of thsi poor technical aspects.
Naresh Kumaran's background score does its job but isn't exceptional, and it doesn't leave a lasting impact.
Reasons to Watch Vyavastha webseries:
Engaging premise and intriguing plot (But spoiled from E02-E07))
Strong performances from Karthik Rathnam and Sampath Raj
Some well-written dialogues
Reasons to Skip Vyavastha webseries:
Poor execution and weak screenplay
Underdeveloped subplots and conflicts
Engagement is limited to the first and last episodes.
Despite a solid plot and commendable performances, the series falls short due to poor execution and a weak screenplay.