"Ninaivo Oru Paravai," directed by Thiagarajan Kumararaja as part of Amazon's Modern Love: Chennai, will share a similar aesthetic experience with films like Eternal Sunshine of the Spotless Mind and Wong Kar Wai's In the Mood for Love.
In these films, characters are often framed by the rectangle of the film frame, as well as by smaller internal shapes. This create a sense of separation and isolation or a sense of mystery and intrigue.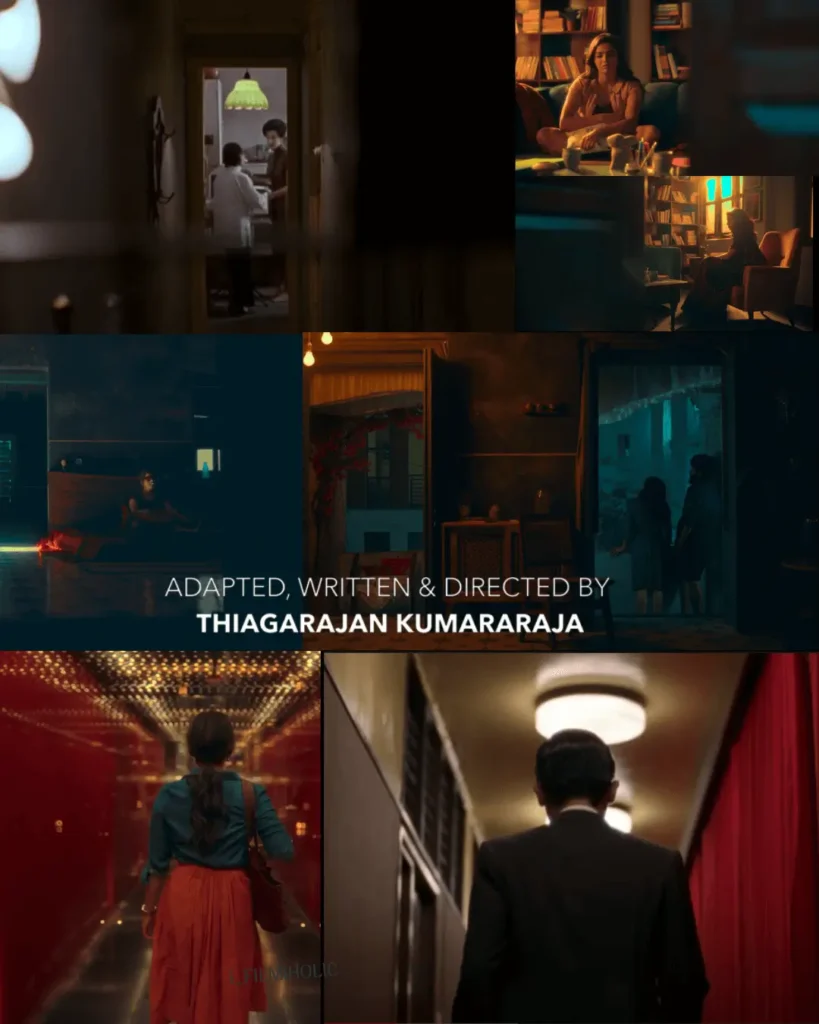 As suggested by the title, "Ninaivo Oru Paravai" (Memory is just a bird), memories are ephemeral, free-spirited, and mutable.
I hope you might have seen, 2000's Memento or if you are a film enthusiast, you might have seen 1975 "The Mirror".
Just as Nolan manipulates our perception in "Memento," Kumaraja crafts an immersive experience, challenging the viewer to distinguish the boundary between hallucination, film inside the film, and reality.
Like a complex maze with a thousand doors, each revealing a new riddle, "Ninaivo Oru Paravai" presents an intricate puzzle.
Let's Open The Door: Ninaivo Oru Paravai Explained
Here is one possible interpretation from my side:
Our main character, K, scripts a story about a couple going through three breakups, one patch-up, and three intimate moments, filled with scenes that connect these elements into a coherent narrative.
Sam, who read K's script, starts experiencing hallucinations about incidents mentioned in the script after their breakup.
Let's see what's in K's film.
The story begins with an intimate moment between Hero and Heroine, the only elements of their identity that we know is that hero is an aspiring film maker. The leftover dialogues suggest they've chosen to separate, marking their first breakup.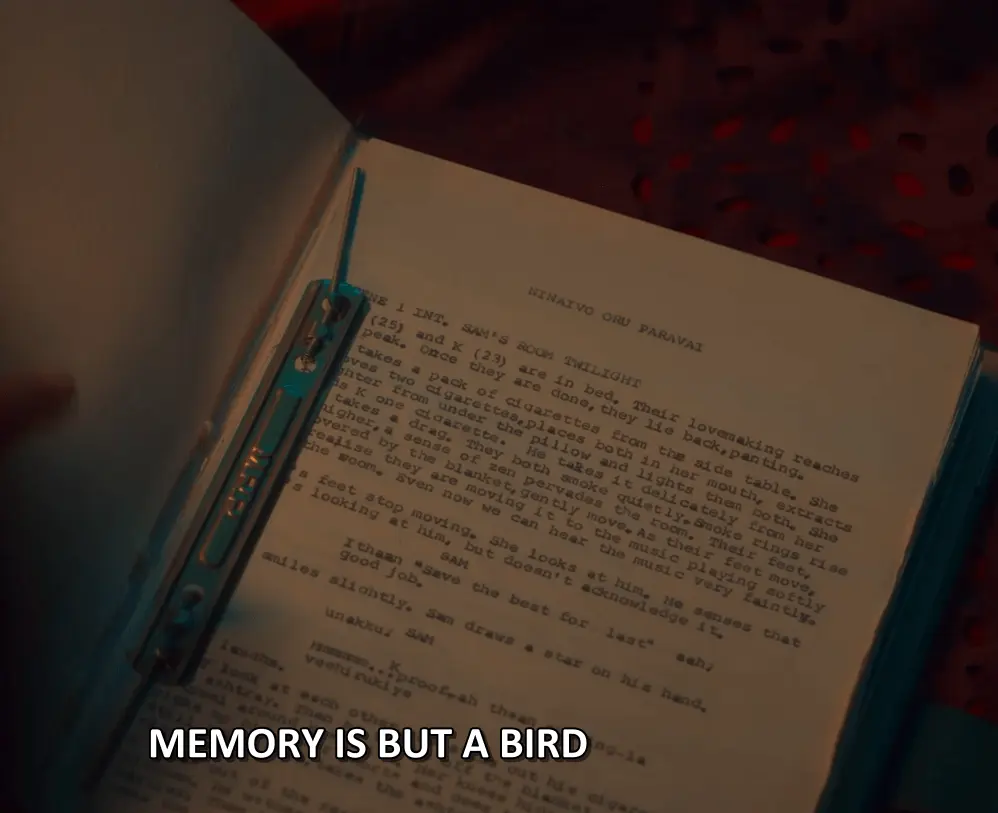 What led to this?
They met on a film set in July, when they were both junior actors. They fell in love fast and became intimate.
Six months later, they made the decision to live together. We see them enjoying their time together.
One rainy night, an astrologer warns them about an upcoming separation.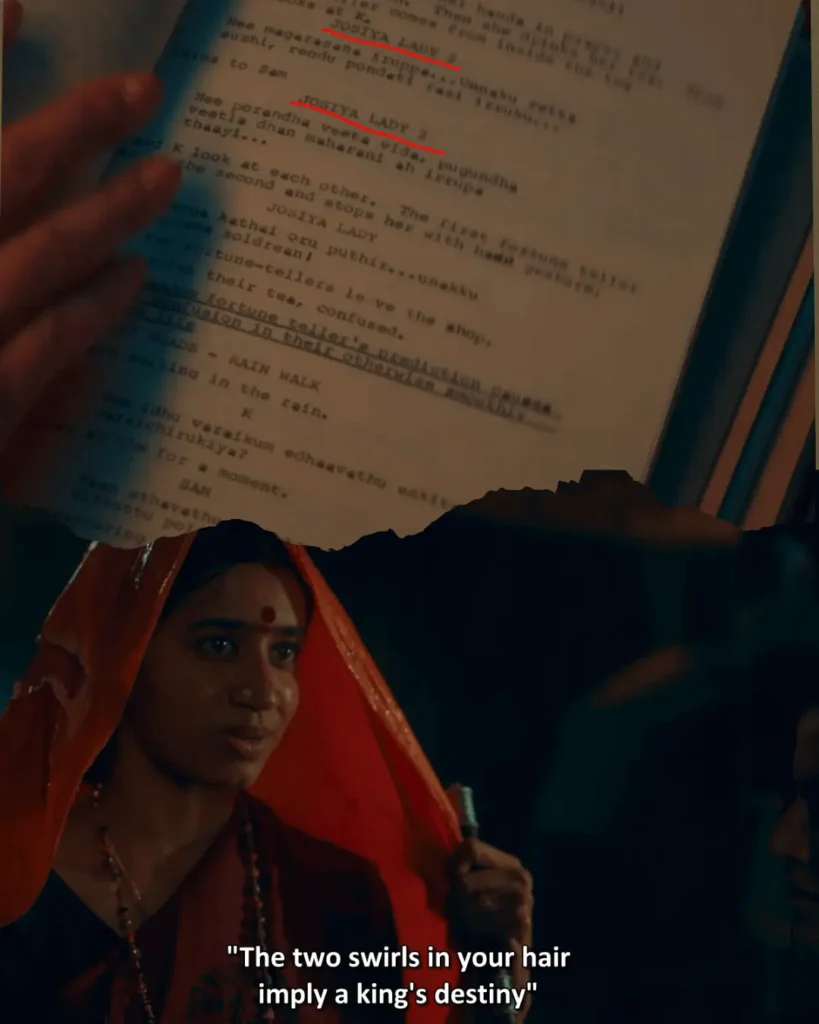 This makes the heroine worry and feel insecure, and she becomes possessive.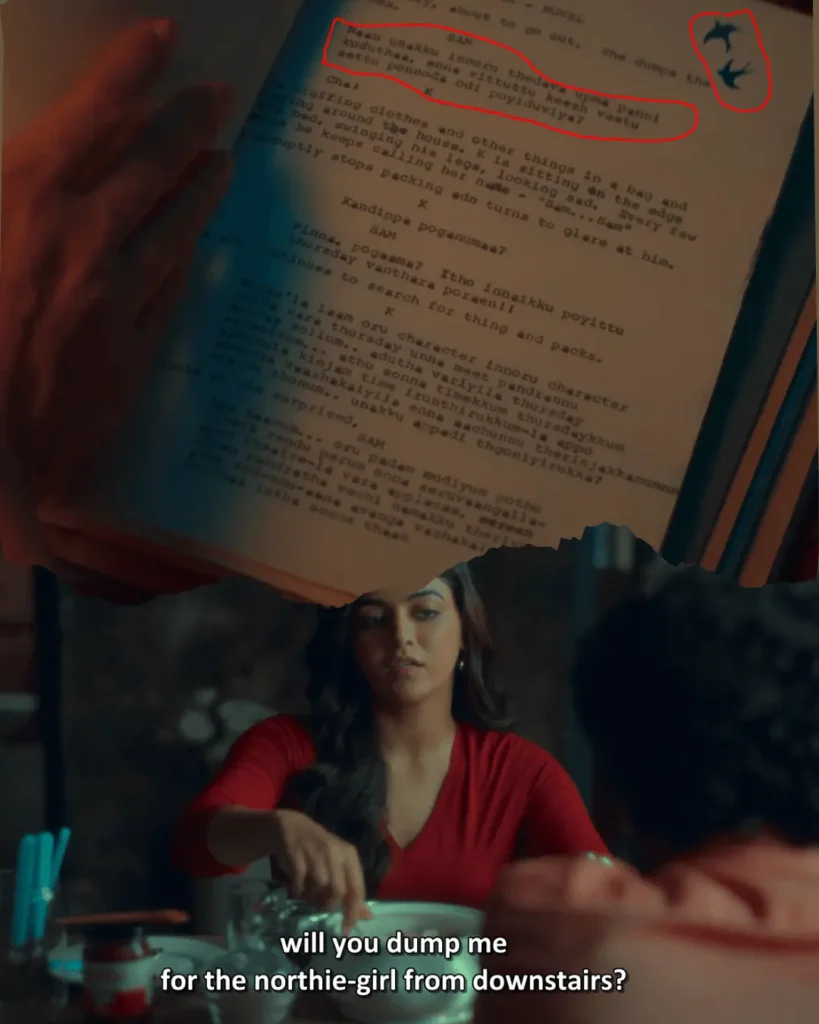 This might have caused a rift between them.
We then see their second (or maybe first) break-up, which is tougher to bear. After this, the hero leaves the house, and the heroine watches him from the balcony. This time, she moves from right to left on the screen, with an infinity loop in the background.
After this, the hero might have had an accident, causing him to lose his memory.
The hero's sister asks the heroine to help him recover his memory. He still remembers the heroine's name. The heroine visits the hero, writes down their beautiful memories, and shares them with him. The hero reads each note, embedding these memories in his mind.
There is a rain scene, it's a beautiful memory that heroine written in the note for hero.
If you look closely, you will get some hints from those frames.
A Hidden Revenge Story
At this point, you might see it as a revenge story, where the heroine tells him to believe everything she says, whether it's true or false. He lives with the uncertainty of his memories, unsure if they're lies or the truth. It's like a Thursdayism philosophy that K used to talk about in the past.
I see it as a form of revenge because the heroine was dealing with the same feelings after their break-up. She couldn't tell what was real and what was an illusion.
Now, she's passing the same feelings on to the hero, telling him,
"Anything you remember won't be the truth but a figment of your imagination. I'm the only one who can tell you if it's real or just your imagination."
But she promises him that she never cheated and that they'll never see each other again. She gives him back the script that he wrote.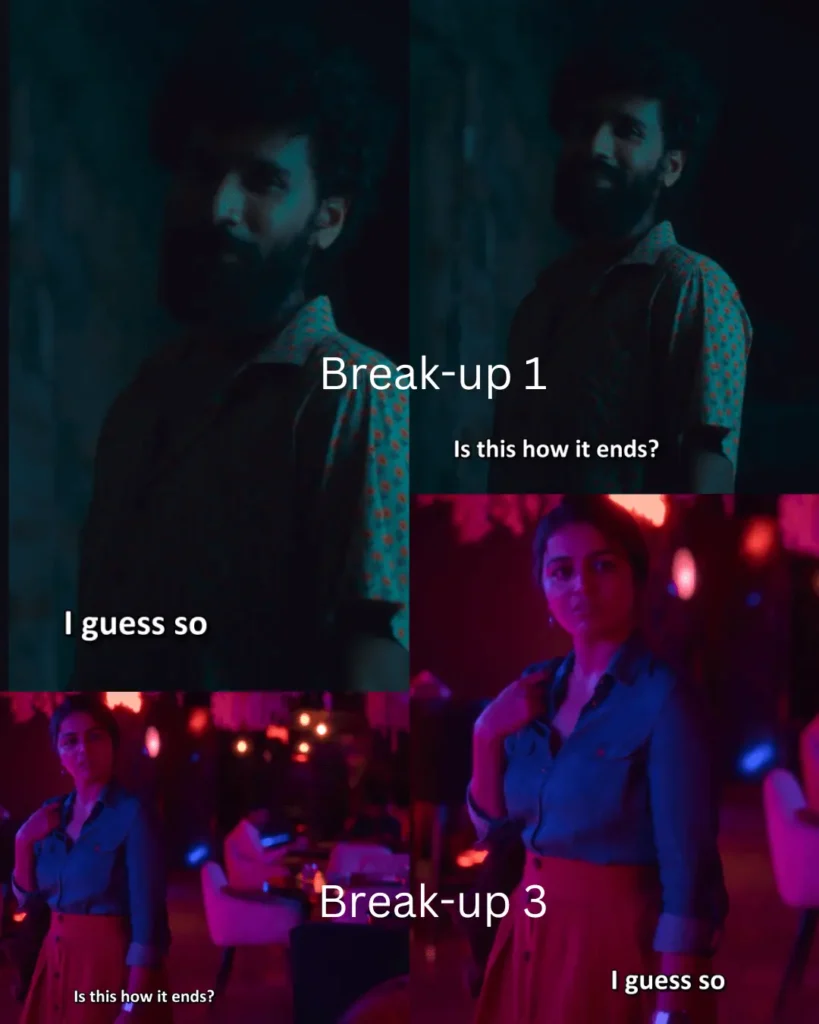 As she leaves, she repeats the hero's words from their first break-up, "Avvulo thaana (That's it?)" "I guess so."
You can see this as the third break-up in the script.
A Happy Ending
The heroine then comes home in the rain, with the hero following her. She closes the door on him when he begs for her love.
She asks why she should love him.
He replies that even though he's lost all his memories, he still remembers her. This shows his love for her.
Sam opens the door, and they get back together. She says they're going to live happily ever after, just like the characters in the movie.
She then comes back in, possibly after making love, closes the door, and the title card "A film by K" appears.
This is K's film.
Let's Now Explore, What is Reality?
After her breakup, Sam seeks help from a psychiatrist to cope with her emotional distress, and she starts improving with treatment.
During her visit to the doctor, bird tattoos are visible on her neck (in the present or real). These bird tattoos might serve as symbolic keys, resembling a love bite, possibly representing the painful remnants of love and memory.
This tattoo plays a pivotal role in this film. It helps us distinguish between the real and imaginary worlds (or events from K's scripts) in the film.
Let's Pick Some More Hints
On reaching home and starting to clean, the tattoo on Sam's neck is visible.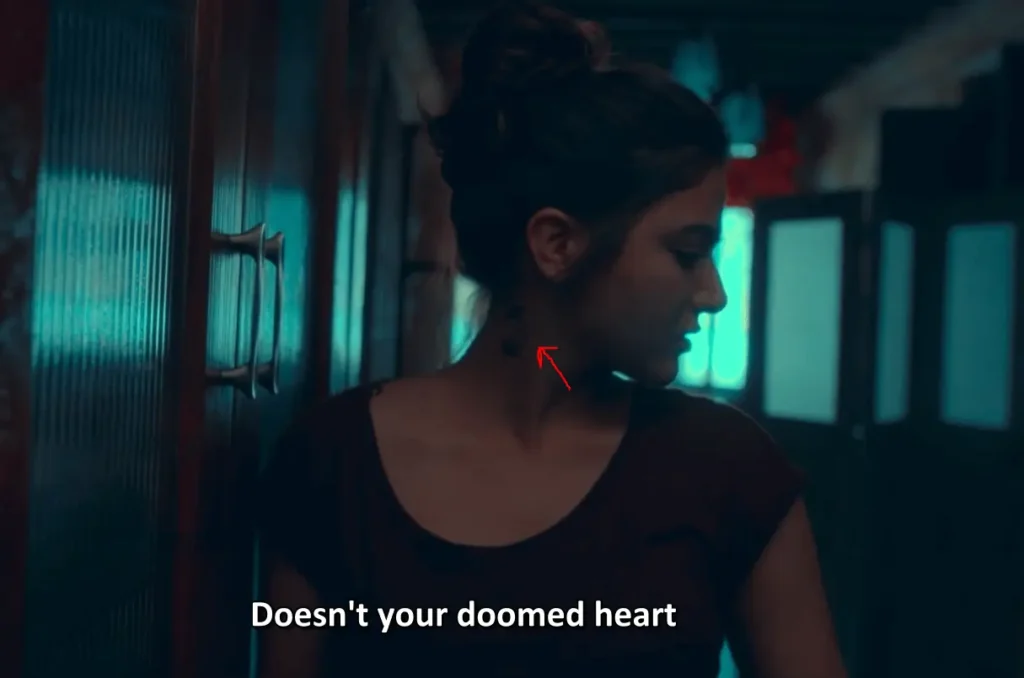 When she picks up the ashtray, it reminds her of the couple's habit of smoking together after making love.
While Sam is holding the ash tray, you can see that cactus in the background is dry. But, when she see K's sister, cactus is green. Sam's hallucinations are vivid and colourful.
She begins to hallucinate again. K's sister's arrival and the entire hospital sequence seem copied from the script. While Sam converses with K's sister or during her time at the hospital, her tattoos are not visible.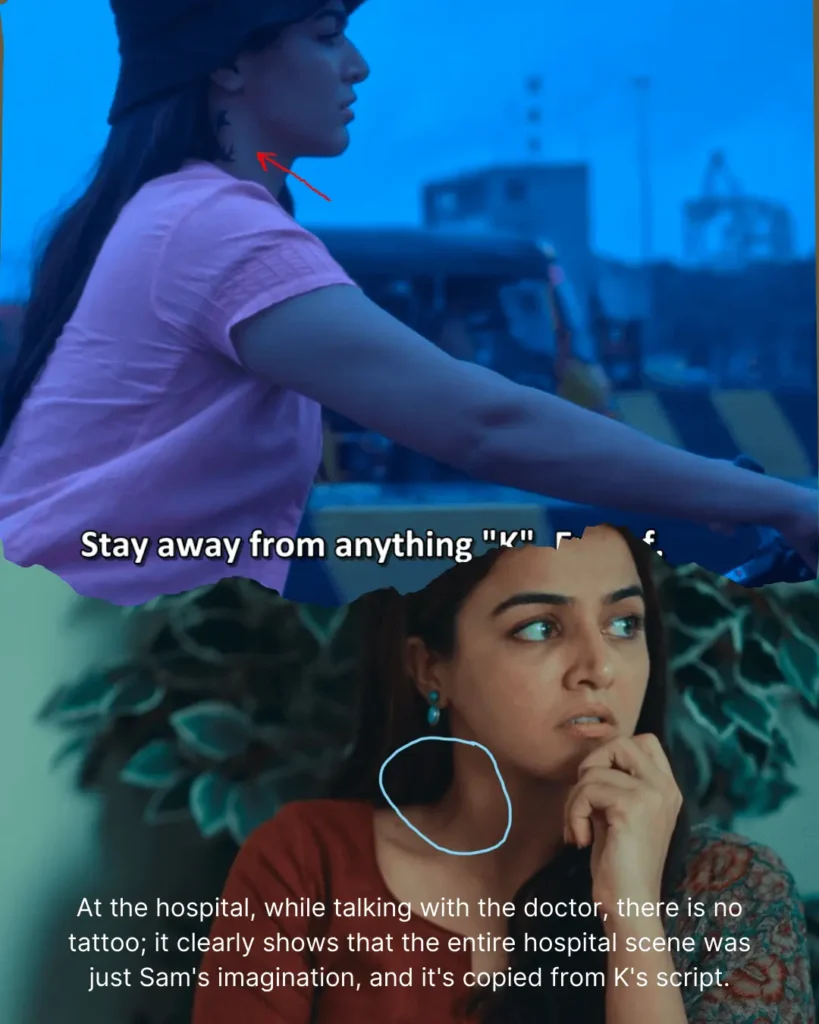 While searching for toilet paper, we see tablets on the shelf, but she doesn't use them. Sam starts to hallucinate the entire script (written by K) as her own memories or present experiences.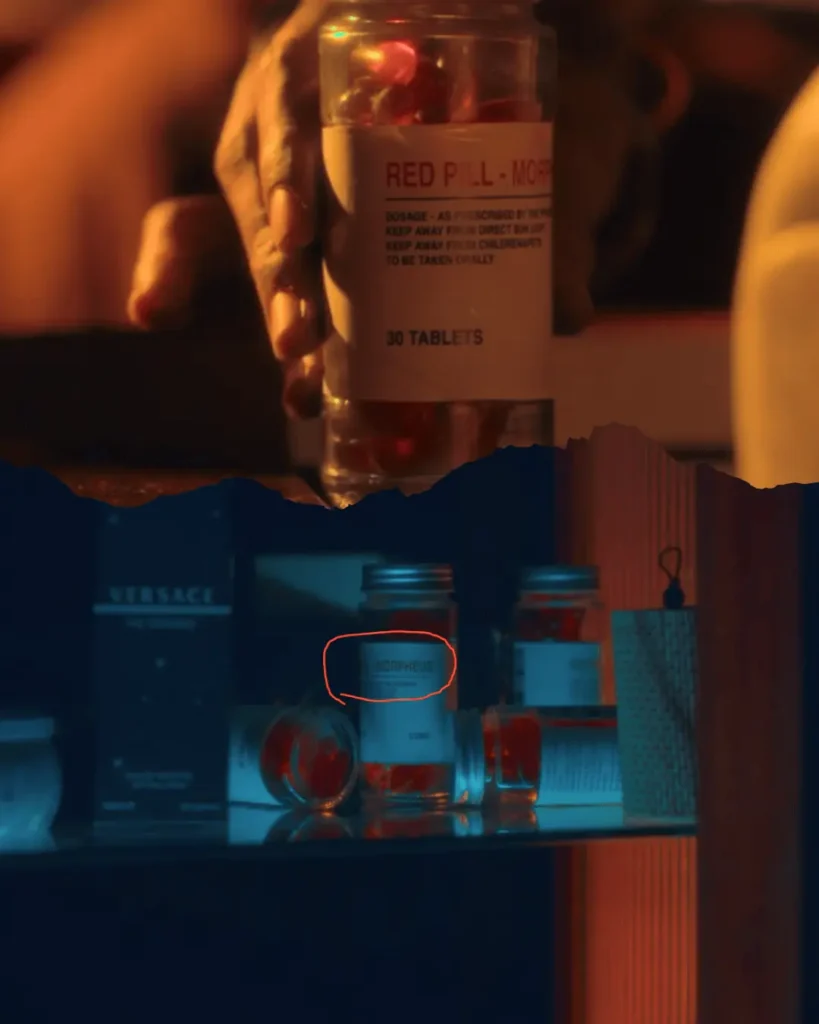 In the climax, when they meet for the last time at the bar, Sam's tattoo is initially not visible, which suggests it's a hallucination influenced by the script.
And this scene is there in the script or K already discussed this with Sam (So first part of the meeting is a hallucination).
From Hallucination to Painful Reality(In the Climax)
But when she says, "We won't meet again; I came to give you back the script," her tattoo becomes visible, suggesting that the event actually occurred in their real lives. So, this is her real memory. This might have been there last meet and after this K might have met with an accident.
or else, That painful breakup scene in the script was their last meet and here nobody is there opposite to Sam, and she is hallucinating K is there oposite to her and leaving the script saying "This was one last thing I had kept in your memory".
To make it more concrete, she is raising glass and leaving the table by keeping 500 rupees( can be going Dutch as well). There are no dialogues from K, once the tattoo appears. It's a hallucination, she is leaving the script on empty table.
Even those orange lights are some hint, you can see the shades of orange in all her hallucinations.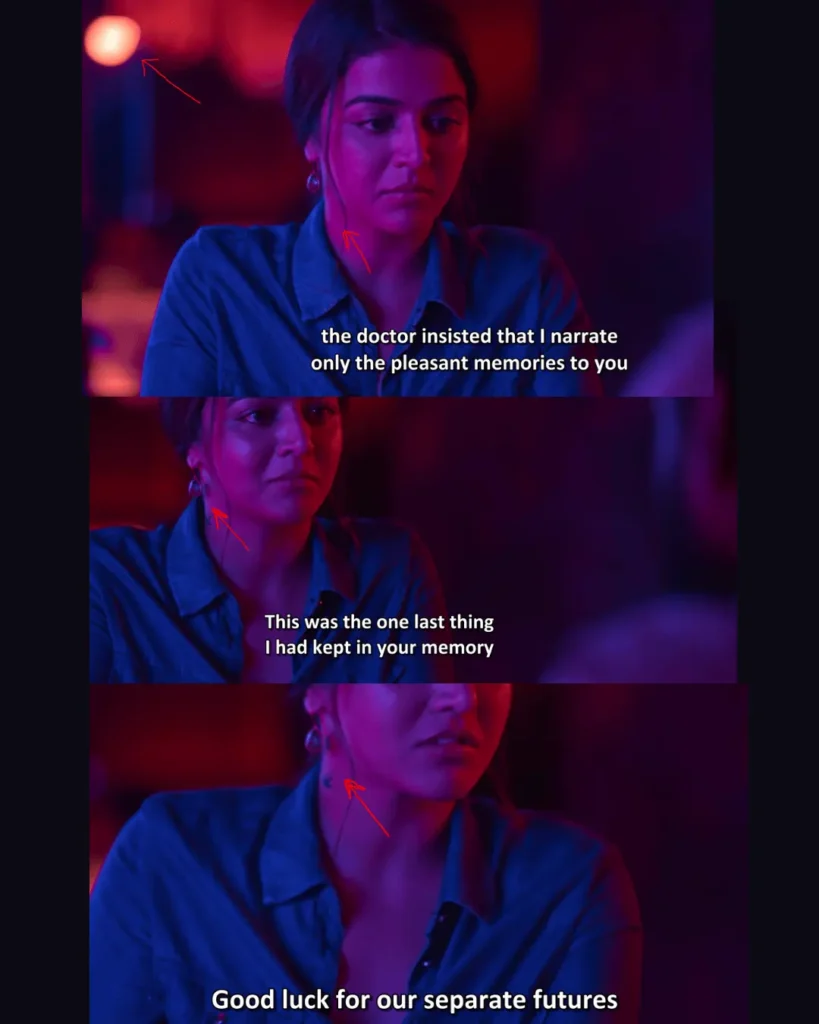 K is Dead!!
Following that painful break-up, K might have met with an accident and slipped into a coma or might have died. Why?
In the subsequent scene, Sam's tattoo is visible, and she is walking back home with a clear sky. The doctor calls her and warns her about hallucinations. She mentions a journal written by Sam (which contains what we've seen as hallucinations, which she might have written in reality as well).
When Sam mentions meeting K, the doctor reacts with surprise, uttering "K?" in a tone indicating impossibility. Hence, K might be dead or incapable of meeting Sam. The doctor shows shock when Sam mentions rain, suggesting there is actually no rain.
In the next scene, Sam is shown talking to K at their home, and it's raining. It's a hallucination.
There's a dialogue from Sam: "We are going to be like those characters in the movie, we are going to live happily ever after from here."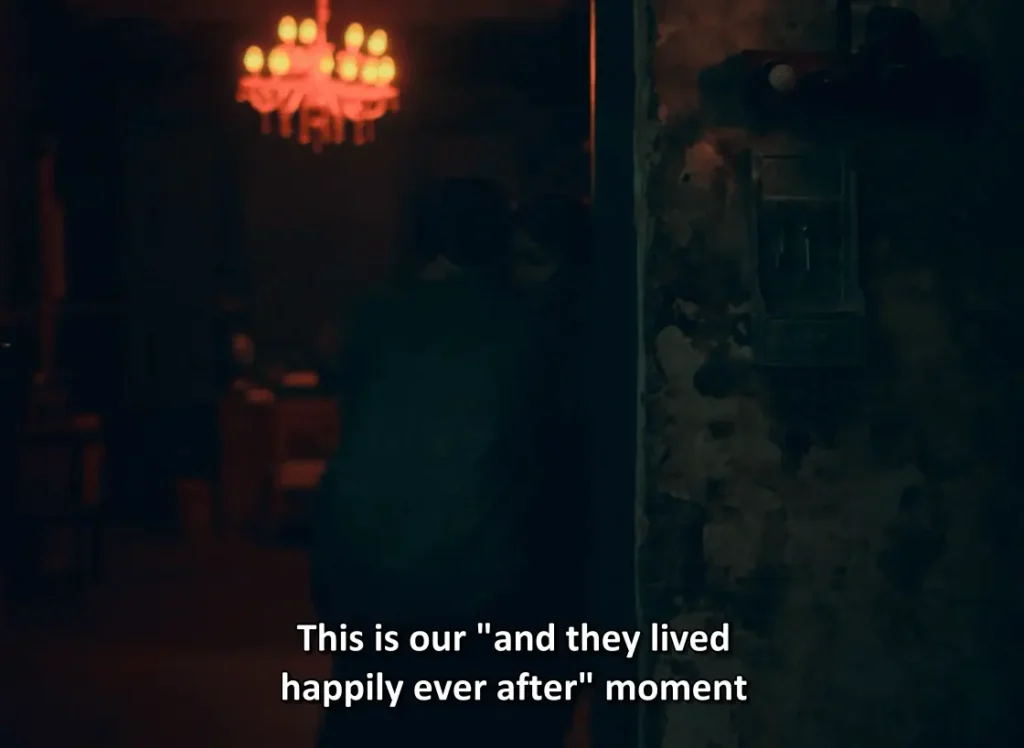 However, after this, Sam comes and closes the door. Her tattoos are visible; it's actually real. She hallucinates that K is with her and sleeping inside. She returns to her loop which ends happily. The door closes. She is going to live like that.
Now doctor (In the film) is the only one who knows K is dead or what happened to him other than Sam. If you look closely, you can see that Doctor and Josya are same.
Ninaivo Oru Paravai: Ending Explained
I've another theory about the break-up scenes in the film.
I think Sam has been through a similar experience before, and the Psychiatrist helped her escape this cycle.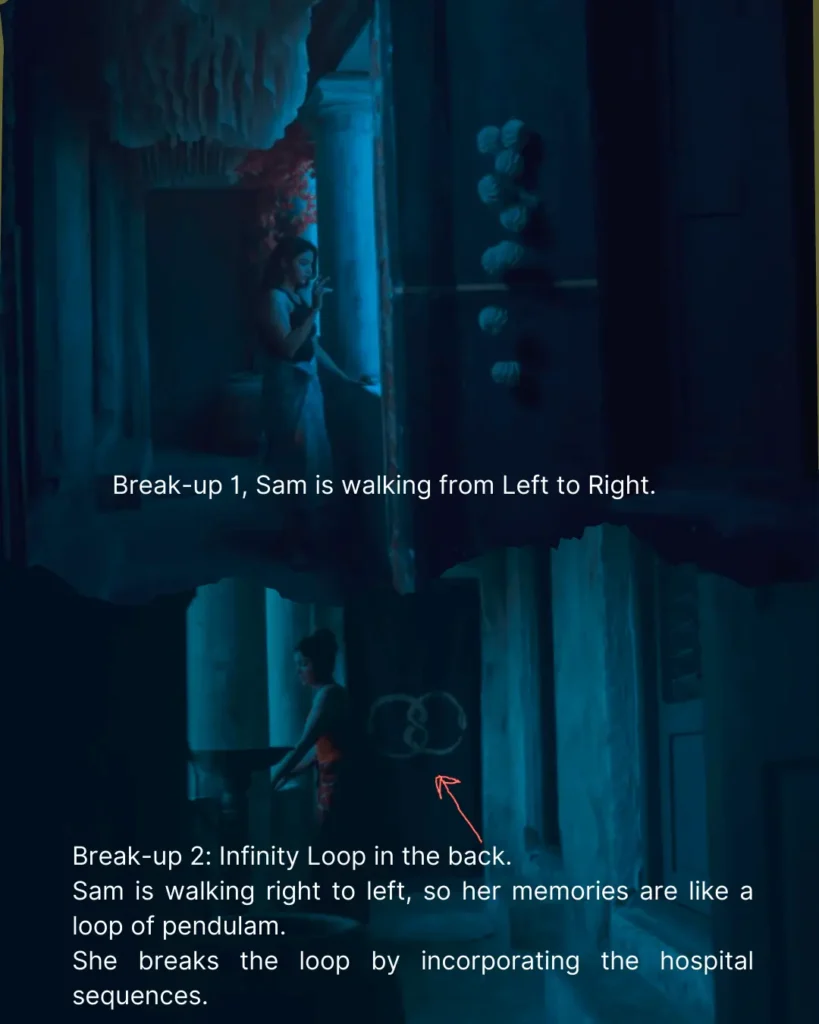 In the first break-up scene, Sam walks from the left to the right of the screen. But in the second break-up, which is more painful, she walks from right to left, with an infinity loop showing in the background.
It's possible that Sam might have experienced the entire events again and again as hallucinations, undergoing the same series of pain and happiness.
Even the song's lyrics playing in the background highlight this: "Will time stagnate at anyone's behest?" and "Fish that swims in the mirage." (song after their second break-up scene)
Like a pendulum, Sam oscillates from left to right and right to left through her memories (her real memories might be).
After her appointment with the psychiatrist, we observe her returning home and revisiting the pain while gathering objects linked to her memories of K.
A Redemption
And when she picks up the ash tray, she starts hallucinating again. At this point, she is disrupting the cycle, striving to create a happier ending.
She hallucinates about K's sister and her meetings with K.
She finds a solution, just like in the movie; she hallucinates and reunites with K on that rainy night.
A song plays in the background while she stores the memories (notes) in the jar: "Till the summer skies burst, and rain pours forth, will your eternal suffering persist."
In that rainy night, she is seeding a happy ending for that eternal suffering.
One Last Theory
Let's shift our perspective by 180 degrees and consider that the actual director or writer could be Sam, not K.
In real, Sam is the one who wrote the script, drawing from her own memories. She wrote the script and in the end she left is at the bar assuming K is there and it's his script (Like in her movie script, in the present she is living like the chaarcter in the movie, so she believes, K wrote the script).
The doctor has been working to erase K from her mind. It's no coincidence that Josya in her script ( who predict the break-up or being a reason for a rift in their relation) and the doctor bear a striking resemblance. There's even a scene where the doctor discusses Sam's journal, reinforcing the idea that Sam is the writer.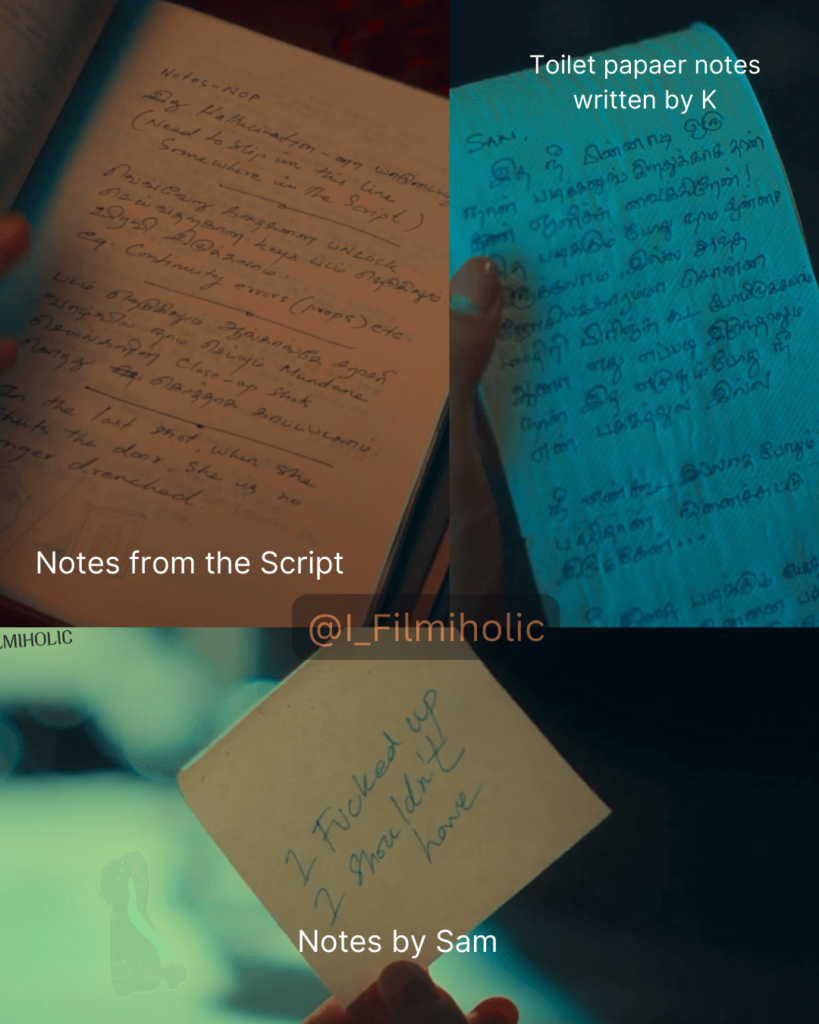 If you observe closely, the notes written by Sam and the notes on the script have the same handwriting. Look at the 'S' written on notes and script. But the notes on the toilet paper, which were written by K, are in a different handwriting.The notes written by K on the toilet paper display a distinct handwriting style
Conclusion
This all reminds me of Kim Ki Duk's movie '3 Iron.' In the end, the hero returns to the heroine's house and lives there unnoticed by the heroine's husband. It implies that three people are living in the house, but the husband is unaware. This raises the question: "Is the world we live in reality or a dream?"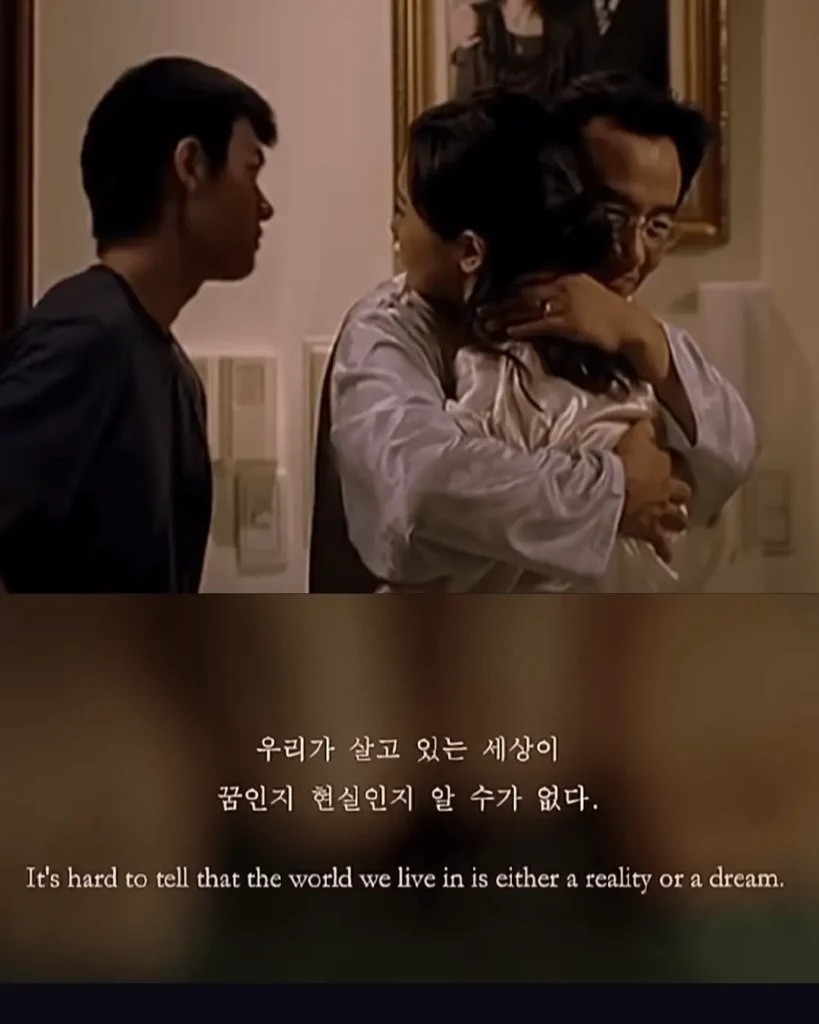 In a similar situation, K might be living with Sam, but no one else knows. It's hard to discern the reality.
Thiagaraja Kumaraja made this movie as a distorted jigsaw puzzle, by watching it multiple times, you will be able to fix it in order. But he removed one piece from the jigsaw: "Why They Broke Up?" this is the trigger to ACT 2 of the movie ( or even K's script).
Maybe there might be more clues to reveal that #WhatHappened moment. Please share as a comment if you find any.
Now let's decode Ponniyin Selvan, How Mani Ratnam brillinatly used metaphors in storytelling.
-Written by Akhil Pillai