Modern Love Chennai- As a review, I would say Thyagarajan Kumaraja version of modern love, is a perfect weekend watch if you love to see the shades of romance.
This webseries is a challenge to the mainstream love stories that we are used to.
What's striking is that each episode is a beautifully narrated tale from a woman's perspective.
As a guy, it's really nice to see love from a woman's point of view. What's really beautiful is how these stories grow, just like a flower blooming, and at the end, they spread the fragrance and make you smile.
The nostalgic background scores and music by Ilayaraja serve as a soulful thread, and keep you connected to Modern Love Chennai, making sure you feel a part of their world.
Lalagunda Bommaigal: A Tale of Trust, Love, and Betrayal
"Lalagunda Bommaigal" narrates the story of Shobha, a resident of multicultural suburban Chennai. The film, directed by Rajumurugan and featuring Sri Gouri Priya, Vasudevan Murali, and Vasundhara, begins with an abortion and then navigates waves of trust, love, and betrayal, sprinkled with a dash of dark humour.
Rajumurugan's handling of the sensitive, dark subject, blending in dark humour without diminishing the pain and struggle of a woman, is commendable.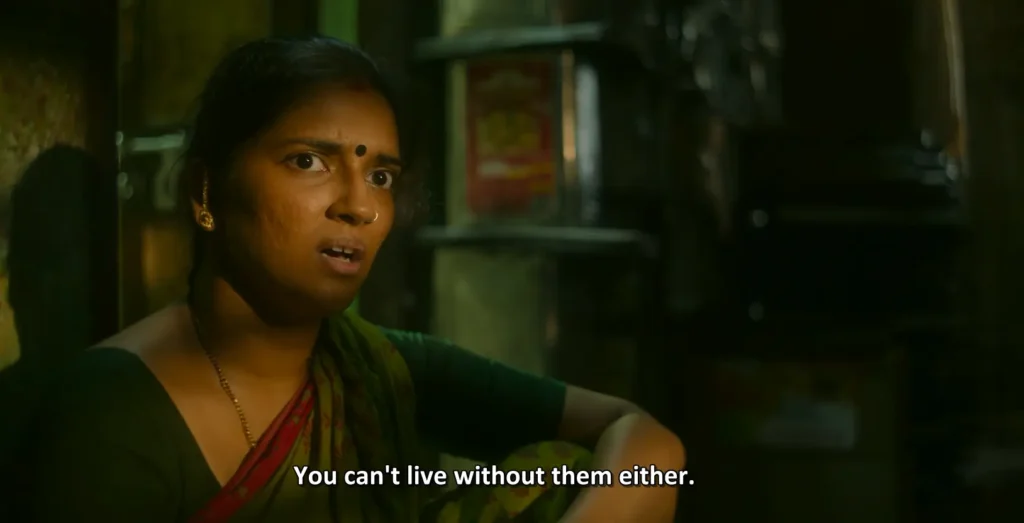 Nirav Shah's exemplar Cinematography
In the first act of the movie, there is a dialogue: "You cannot live with men, but, you cannot live without men either", and, in the climax, there is another dialogue "You cannot live with women, but, you cannot live without women either". This summarises it.
One of the things that I loved most about the film was the cinematography by Nirav Shah. The empty roads, night shots, and transitions all reflected what Shobha was going through.
Even the ending shot of the film was beautiful. It showed us the fulfilment that Shobha had finally found. Frames act like a shadow for Shobha's emotions.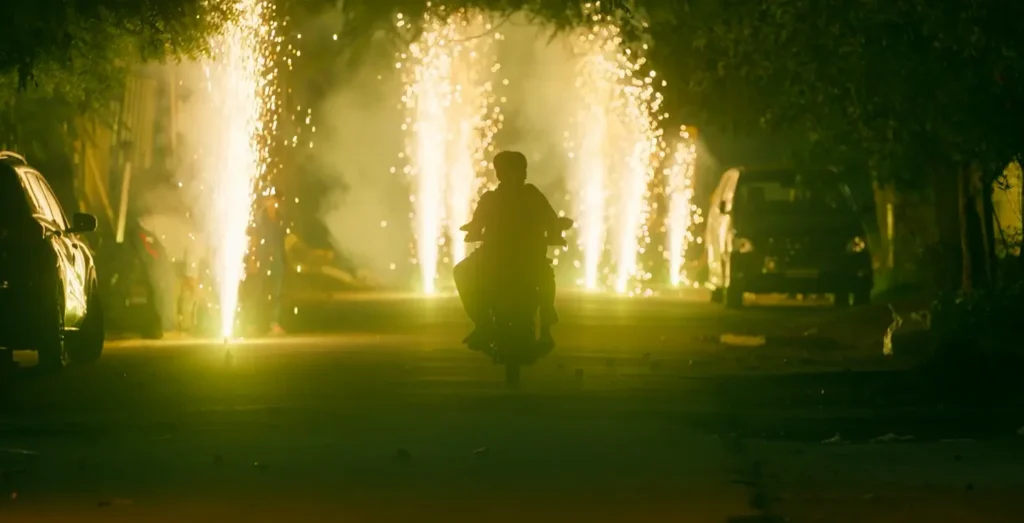 The music composed by Sean Roldan also helps us to empathise with Shobha. It was subtle yet pleasing.
Imaigal: Love Amidst Fear and Loss
"Imaigal," navigates the life of Devi, who's in love with Nithya while facing the fear of a retinal degenerative disease. Directed by Balaji Sakthivel and penned by Balaji Tharaneetharan, this episode stands out for its short-sweet yet meaningful narrative.
The episode focuses on Nithya's fear of losing her sight and her love life. It beautifully captures the moments when Nithya and Devi support each other through their struggles. The episode is emotionally resonant and is a reminder of the fragile yet resilient nature of love in the face of adversity.
T.J BHanu & Yuvan Shankar Raja
Although the episode's pace may seem a bit quick, it's effective due to its well-written script and sincere performances by Ashok Selvan and T.J. Bhanu.
But I felt that he struggled to portray the character of a middle-class man as convincingly as T.J. Bhanu. This may be because Ashok Selvan is not typically cast in these types of roles, and he may not have had as much experience with the struggles of the middle class 😉
As a result, in the second half, there was a slight disconnect between him and the role, which made the couple appear somewhat mismatched on screen.
The music by Yuvan Shankar Raja fills in the silence with a depth of emotion, while the cinematography by Jeeva Sankar expertly catches subtle emotions with close-up shots. It's a worthwhile watch, reminding viewers about the fragile yet resilient nature of love in the face of adversity.
Kaadhal Enbadhu Kannula Heart Irukkura Emoji: A 90s Love Mashup
"Kaadhal Enbadhu Kannula Heart Irukkura Emoji" is all about the romantic adventures revolving around Mallika, who is desperate for love.
If you've seen the Malayalam movie "June," you may find some familiar plot elements, as this episode feels like a condensed version of the same.
Directed by Krishnakumar Ramakumar and featuring a star-studded cast including Ritu Varma, Samyuktha Viswanathan, Pawan Alex, Aniiruth Kanakarajan, and Vaibhav Reddy, this episode is a sweet nod to 90s nostalgia. However, the writing by Reshma Ghatala comes across as average, with several scenes evoking a sense of déjà vu.
The story is about Mallika, a teenager who loves 90s romantic movies. She is obsessed with the scenes and dialogue, and she is eager to experience love for herself. She falls in love with different people at different stages of her life. Through these experiences, how her character arc changes and her perspectives about love evolve is the rest of the story.
A surprising Cameo and a Striking Dialogue
There is a cameo by Bhradwaj Rangan and it was hilarious and interesting.
What makes this episode special is the reference of all those 90's kids favourite romantic songs and multiple Maniratnam & Gautham Menon movie references. I felt like it's a 1990-2000 love mashup.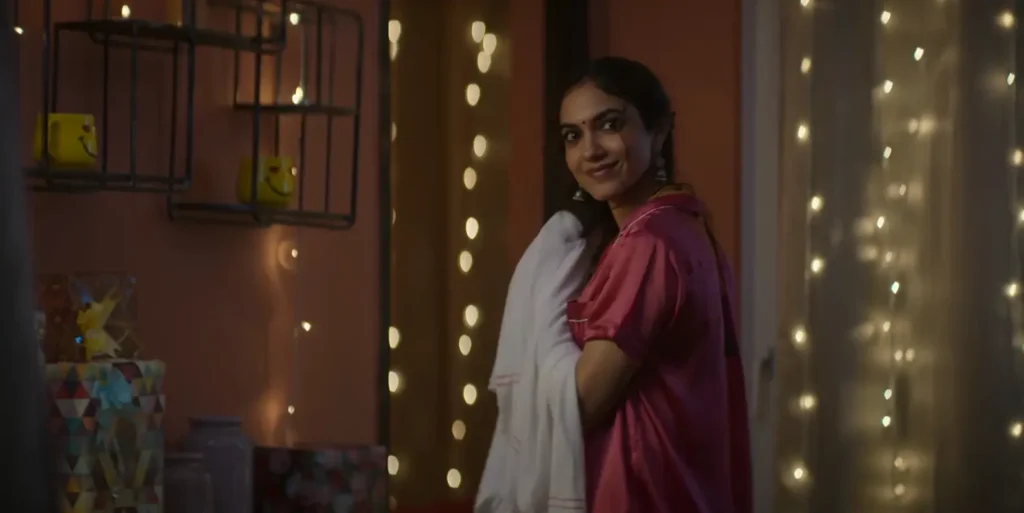 One intriguing dialogue from Mallika caught my attention. She states, "there are no breakup songs for women in Tamil cinema."
This line served as a humorous yet sharp commentary on a stark reality in the film industry.
Margazhi: A tale that Blooms Like Jasmine
Margazhi, is a heartfelt teenage love story directed by Akshay Sundher and penned by Balaji Tharaneetharan,and this is one of my favourites in recent times.
You can see Balaji's signature in the dialogues and character development. The narration reminds me of European classics, with its slow pace, steady frames, poetic moments, and close-up shots.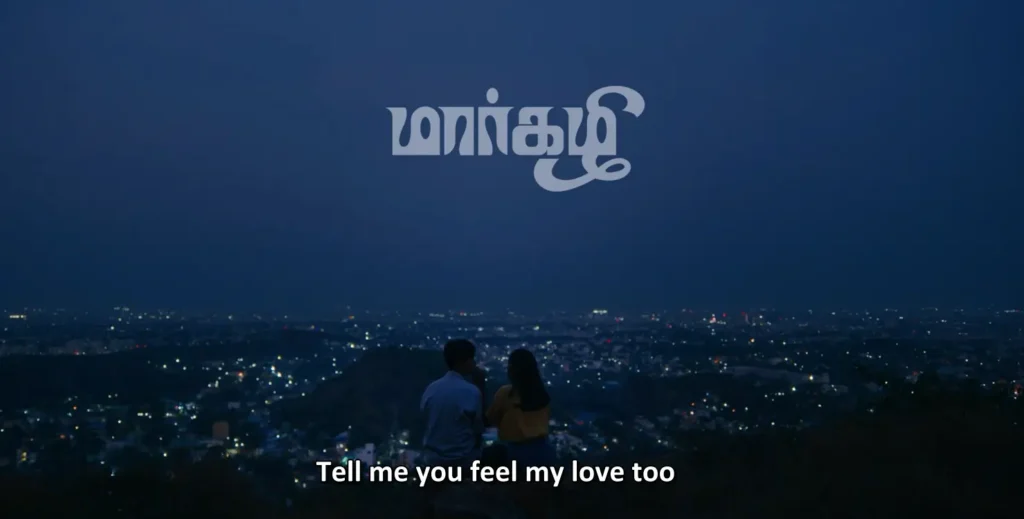 The story is about Jazmine, who is depressed after her parents' divorce. Her father suggests that she join the church choir to help her feel better.
Despite being in the choir, she finds comfort in her earphones and the music of Ilayaraja. However, a silver line arrives in the form of a summer romance that dramatically alters Jazmine's path.
Everything changes along Jazmine's character arc – the backgrounds, landscapes, objects, and even color shades. I was truly amazed by the depiction of this transformation.
Sanjula Sarathi's Spring, Summer, Fall..
In her debut role, Sanjula Sarathi is simply spectacular as Jazmine. Her performance shines in the close shots, She is so expressive in her close-ups. Particularly in one striking scene where she questions, "Why do you love me?" Her portrayal of the reflections and self-fulfilment is impeccable.
Ilaiyaraaja's musical score adds an extra layer of depth to the story, reminiscent of the "En Iniya Pon Nilave" vibes.
However, the real star of the show, beyond Balaji's writing, is the cinematography by Vikas Vasudevan. The frames evolve like the seasons – winter, summer, spring, finally blooming into a beautiful cinematic experience.
Don't miss Margazhi, it's a beautiful teenage romantic film. It is a must-watch for anyone who loves teenage love stories.
Paravai Kootil Vaazhum Maangal (Gazelles living in a bird's nest): A Forbidden Love
Do you recall the 1993 classic Marupadiyum by Balu Mahendra, featuring Rohini, Nizhalgal Ravi & Revathi? Or perhaps the iconic song "Aasai Athigam vachu" by Ilayaraja from the same era?
Well, Paravai Kootil Vaazhum Maangal feels like a more compact, updated version of Marupadiyum. Directed by BharatiRaja, it's steeped in the same intense emotions.
Pratheep Kumar's dialogues might seem a tad dramatic, but they're also poetic, adding depth to moments of character introspection.
The tale kicks off with Ilayaraja's classic "En iniya Pon Nilave" song, setting the stage for the unfolding forbidden love between Rohini & Ravi amidst the Chennai metro station.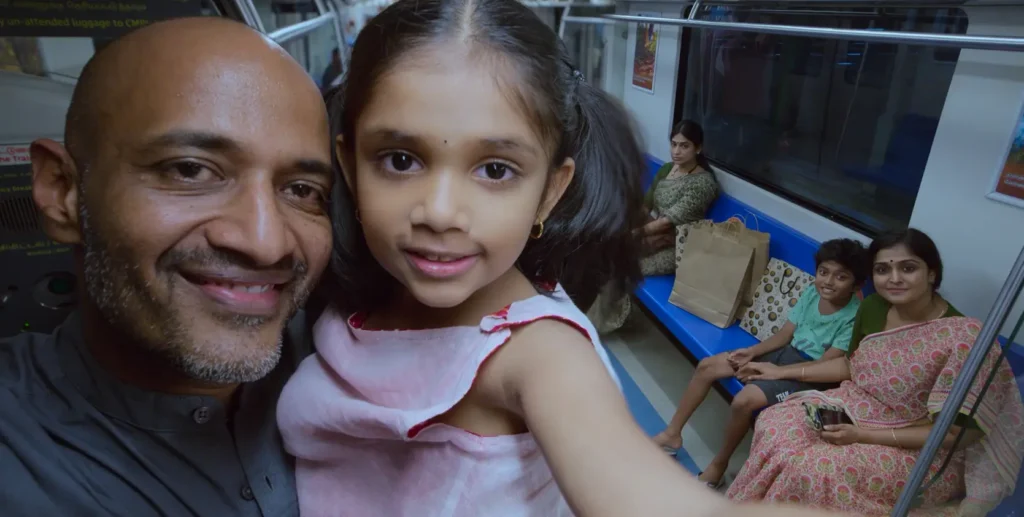 Kishore, Ramya Nambessan, and Vijayalakshmi deliver some standout performances in this episode. They beautifully fill the shoes of Ravi, Revathi, and Rohini, bringing these characters to life. Another shining star is the cinematography by Jeeva Sankar. The way he frames scenes set in the metro, at night, or within a room is captivating. The team's use of darkness and night shades adds another layer to the storytelling.
Exploring the Labyrinth of Love
In Kishore's (Ravi) own words, the theme of the episode can be summed up as, "It's hard to discern when love will happen, or with whom, or even why. We never understood our hearts."
The episode ends with a dialogue from Revathi about emptiness, which reminds me of Thulasi from Marupadiyum. It would be unnatural to find gazelles living in a bird's nest. Rohini and Ravi are the gazelles here.
Ninaivo Oru Paravai (Memory is Just a Bird): A Modern Love
This episode is a real modern love story filled with all the required ingredients: pubs, smoking, wild sex, post-breakup traumas, and high-end philosophical talks.
Ninaivo Oru Paravai, directed by Thiagarajan Kumararaja and starring Wamiqa Gabbi and PB, presents the tale of Sam & K. They're a couple who subscribe to a "caveman" style relationship: "You are mine, I am yours, no god, no marriage, no rules".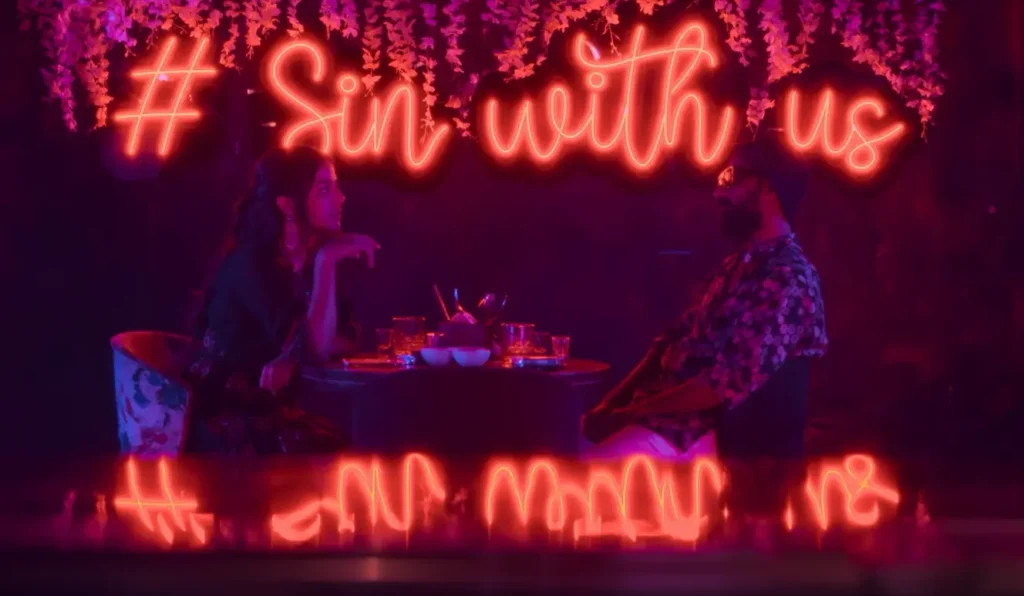 The episode opens with the soft melodies of "mella mella ennai thottu", an Ilayaraja composition later used in Sarvam by Yuvan.
As the couple stirs from sleep following a passionate night, the soft music, subdued room lighting, and red tones set the tone for the film and tell you to get ready for something dark, wild, and passionate, infused with both the sweetness of love and the bitterness of tears.
In a thought-provoking scene, K questions the fate of film characters after the movie ends, which feels like the director is posing these queries to the viewers. It reminds me of the character Mugil (Fahad Fasil) from Super Deluxe.
Philosophical Brilliance of Thiagarajan Kumararaja
This film talks about idealism (what we perceive as the "real world" is essentially a product of our mind) and direct realism. The brilliance of Thiagarajan Kumararaja is that he lets you experience the same (like Nolan's Memento, where you feel what the character is going through). The storytelling method is so unique and blends beautifully with idealism.
In simple terms, Thyagaraja Kumaraja is playing a mind game with you, blurring the lines between a movie within a movie and two real-life characters.
The cinematography by Nirav Shah and Jeeva Sankar brilliantly enhances the film's ambience, helping us to dig into the deeper layers of the scenes. The corridor shots in the hospital, the indoor shots of unfinished rooms, the close-ups of cigarette packs, the rain shots tinged with pink and yellow, all signal that this is a work by Thiagarajan Kumararaja. The pervasive darkness and red colour tones echo the episode's underlying themes around idealism & realism.
Memory is just a bird, It is free and unbounded. It flits around, sometimes coming close and at times flying away, but it's always a part of our world.
Modern Love Chennai Review: Final Word
Overall, considering a review of Modern Love Chennai, I would say it excels in execution and casting, even though not all episodes are great in their vision.
While many episodes were acclaimed for their dialogue and storytelling, some might have seemed cliché or overly familiar. More innovative and nuanced writing could have made these episodes stand out. For example, Ritu Varma's episode, climax of first episode.
For more movie reviews and suggestions, click here.