Anyone familiar with Krishand's Aavasayooham or other flicks can easily predict what's waiting for them. Don't be fooled by his titles; his film titles are not direct.
He always chooses a heavy subject and will deliver it in a fun and thrilling way. Krishand, I believe, is a fan of superimposing dichotomies, such as war and peace or love and hate.This is his way of leaving his imprint on his works. Purusha Pretham is no different.
Purusha Pretham is a noirish crime comedy that is stuffed with numerous layers of Indian politics and social evils that still prevail including discriminations, domestic violence, exploitations and bureaucratic red-tapism.
When it comes to the plot, Krishand always crafts a central character, with confidence being an essential factor. SI Sebastian, aka Super Sebastian, is renowned for his bravery and is feared by many in Purusha Pretham.Sebastian's reputation is tested when a lady named Susan comes to his station and wants to check whether an unidentified body is her husband's or not.
Sebastian's Macho-chauvinism and some Rashomon effects(another pattern in Krishand's movies) are what make the first half of the movie. In the second half you will witness the fragility of the same macho elements and the shades of femme fatale.
Some of the frames in PP remind me of Nanpakal Nerathu Mayakkam and Pudhupettai, and those cinematic frameworks reflect Krishand's outside the box making. Here everything is connected, be it an Orange juice, a bottle, a Rose flower, an underwritten character, everything serves a purpose and that elevates the experience of the viewer.
Darshana stated in a recent interview, "Usually, you have a master shot and then you go for a person's close-up or over-the-shoulder shots and you are familiar with all of that."But in Purusha Pretham, it wasn't." This is pretty evident in the film. All the characters are at the margins of the frame leaving a space besides (no spoiler 🙂 )
There are no stars (except Darshana), dramatic stunts, or slapstick comedy in the film. But director Krishand incorporated all the tiny elements that will entertain every category of viewers. There are parts of the film where silence would have been appropriate, but he still included some haunting background music and songs by Ajmal Hasbullah.There are some raps that replicate the contemporary style of mallu trends that will elevate the mood of the film, and that's the beauty of this dark noir crime comedy.
I truly admire Krishand's research for this film and the way he incorporated some cliches in Malayalam films when it comes to police officers (maybe he was mocking). In his previous film, there is a scene where the character Vava suddenly gets a lot of fish; similar cliched elements to excite the common man can be found in Purusha Pretham as well. Especially, in the climax event of 'Super' Sebastian.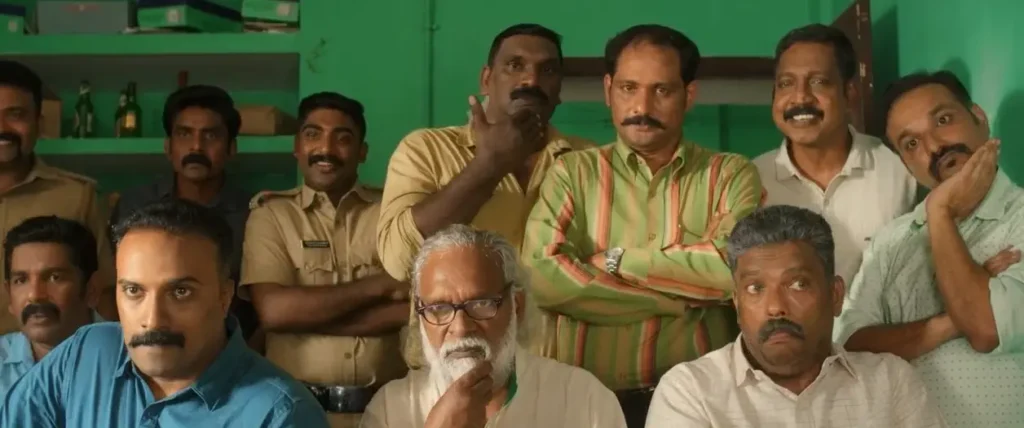 Krishand and writer Ajith Haridas deserve praise for their nuanced portrayal of police characters in the movie. Instead of painting them all with a khaki shade, Krishand added separate character sketches for each police officer, which made them stand out from one another. Furthermore, the way he humanizes the police force is another entertaining factor in the movie. Sanju Shivram, Jeo Baby, Rahul Rajagopal, and Zhinz Shan all bring a smile to your face with their delightful performances.
Alexander Prashanth and veteran actor Jagadeesh were the two people who stole the show. The way Prashanth delivered 'The Shades of Sebastian' was impeccable. At some point, I felt like this character was written specifically for him. Jagadeesh's portrayal of Dileep was an extension of his character from 'Rorschach'.
In one word, this is a movie for every set of audience. This is an ideal material for a post-Friday film (a film that will be popular upon its release). I hope next time Krishand will deliver a Friday film since this is going to be the talk of the town soon.