Are you waiting for the latest OTT releases this week? From Lust Stories 2 to Celebrity(Netflix). Thrillers, Comedy, Action, K-Drama…the list is long and hopeful.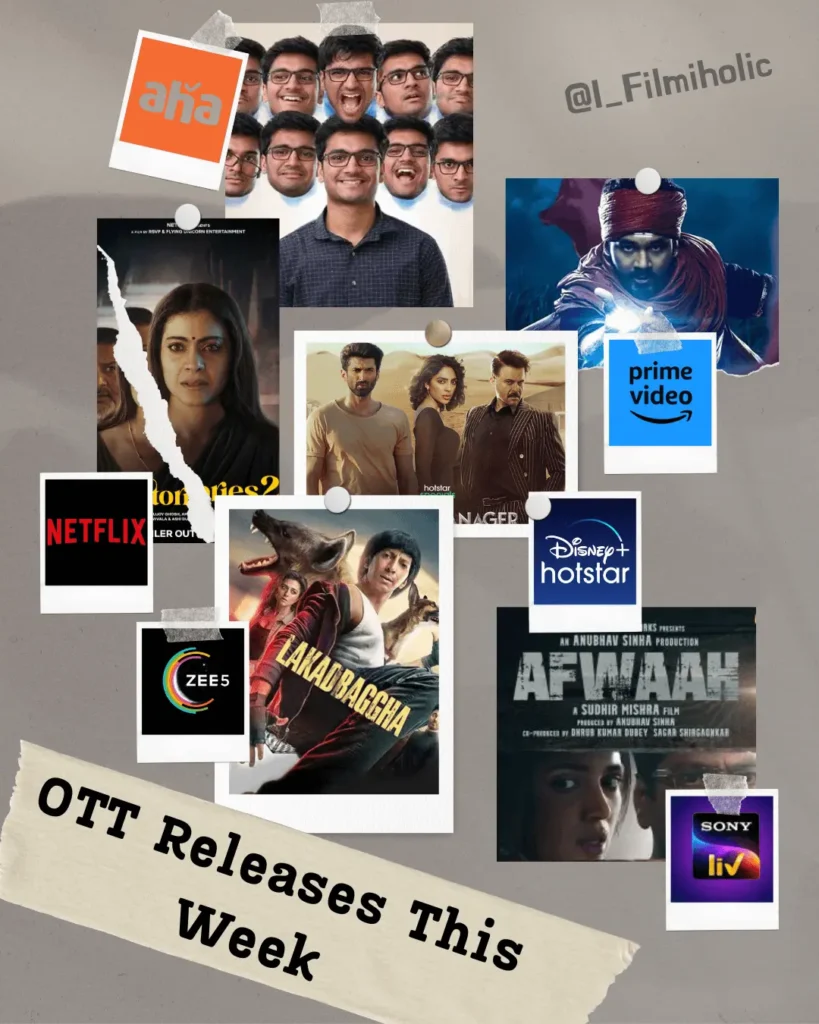 Veeran – A Mythical Superhero Comedy
OTT Platform: Amazon Prime
Directed by: ARK Saravan
Cast: Hiphop Adhi, Vinay Rai, R Badree
Plot Synopsis
Veeran revolves around Kumaran, a man with unique superpowers, who assumes the guise of the village's forgotten deity, Veeran, to protect his people from a threatening corporate project. The film uniquely combines elements of myth, superhero elements, and village life comedy. The plot journeys with Kumaran as he uses his mind-control and electric-arc-discharging powers to thwart the dangerous project led by the antagonist, Sharath.
Vimanam – A Melodrama of Love and Determination
OTT Platform: ZEE5
Directed by: Siva Prasad Yanala
Cast: Samuthirakani, Master Dhruvan, Rahul Ramakrishna, Anasuya Bharadwaj
Plot Synopsis
Vimanam weaves a melodramatic tale of a differently-abled father's endeavors to fulfill his son's dream of experiencing air travel. Facing mounting odds, Veerayya, the father, and his son Raju grapple with their circumstances and societal prejudices.
Highlights
An emotional narrative, underpinned by the strong performances of Samuthirakani and Master Dhruvan.
Portrayal of a tender father-son relationship is heartwarming but often dips into the realm of melodrama.
The film could have benefited from fresh narrative tropes and better writing.
The Night Manager Season 2 : Thrilling Labyrinth
OTT Platform: Disney+ Hotstar
Directed by: Priyanka Ghose
Cast: Anil Kapoor, Aditya Roy Kapur, Sobhita Dhulipala, Tillotama Shome
Plot Synopsis
In this second season, former Navy officer Shaan Sengupta must navigate unexpected challenges as he uncovers illegal activities of a man he was tasked to spy on.
Highlights
Successful adaptation of John le Carré's The Night Manager into a Hindi version.
Intense performances and intricate plot lines keep audiences engaged and wondering what will happen next.
While the first season set the stage, the anticipation for the unfolding events in season two is high.
Good Night: A Slice-of-Life Comedy with Heart and Wit
OTT Platform: Disney+ Hotstar
Directed by: Vinayak Chandrasekaran
Cast: Manikandan, Meetha Raghunath, Ramesh Thilak, Raichal Rabecca
Plot Synopsis:
Good Night narrates the story of Mohan, an IT professional whose loud snoring affects his relationships. Meanwhile, Anu, an introverted accountant, grapples with her past and feelings of unluckiness.
Highlights
Stellar performances by Manikandan and Meetha Raghunath, infused with comedic timing, make the series engaging.
The narrative successfully intertwines humor into everyday problems.
The relationship between Mohan and Anu evolves organically, adding depth to the storyline.
Ardhamayyinda Arunkumar – A Small-Town Boy in the Big City
OTT Platform: Aha
Directed by: Jonathan Edwards
Cast: Harshith Reddy, Tejaswi Madivada, Ananya
This series follows Arun Kumar's transition from a small-town boy to a corporate worker in Hyderabad, providing humorously poignant insights into his encounters and experiences.
Lakadbaggha – A Wild Crime Comedy With A Poor Draft
OTT Platform: ZEE5
Directed by: Victor Mukherjee
Cast: Anshuman Jha, Milind Gunaji, Sanjay Mishra, Shakti Kapoor
Plot Synopsis
In this Hindi crime-comedy, Arjun Bakshi (Anshuman Jha), a martial arts teacher and animal lover, faces his worst nightmare when dogs start vanishing from the streets of Kolkata. His curiosity leads him to discover an illegal and ruthless animal trade run by a dangerous kingpin who deals in exotic animals and murders street animals on contract.
Witty dialogues and funny sequences make this movie an entertaining watch.
An outside the box idea with a blend of crime and comedy seamlessly.
However, the storyline at times seems predictable and could use more suspense or unexpected twists.
Lust Stories 2 – An Intricate Tapestry of Desire and Intimacy
OTT Platform: Netflix
Directed by: R Balki, Konkona Sen Sharma, Amit R Sharma, Sujoy Ghosh
Cast: Tamannaah Bhatia, Mrunal Thakur, Vijay Varma, Kajol, Angad Bedi, Tillotama Shome, Kumud Mishra, Neena Gupta, Anushka Kaushik, Amruta Subhash, among others.
Plot Synopsis
Lust Stories 2 explores the nuanced complexities of intimate relationships and sexual awareness through four unique episodes.
The series, while maintaining the original's provocative theme, offers fresh perspectives with its new cast and creative directors.
Each episode tackles distinct themes effectively, showing various facets of desire and intimacy, which helps to keep the viewers engaged.
However, some episodes could feel uneven and may not fully resonate with the audience. If you are a fan of first season, you may get disappointed with its amateurish writing.
There are certain scenes where the storytelling feels a bit preachy, potentially affecting the overall narrative flow.
Afwaah – A Must Watch Political Warfare
OTT Platform: Netflix
Directed by: Sudhir Mishra
Cast: Nawazuddin Siddiqui, Bhumi Pednekar, Sumeet Vyas, Sharib Hashmi
Plot Synopsis
Afwaah is a powerful socio-political thriller revolving around the menacing spread of rumors and the consequential mob violence that it spurs.
The film's examination of contemporary socio-political dynamics makes it a gripping watch, especially in the context of today's digital world.
The narrative, though complex, is layered with well-crafted elements of political intrigue and human vulnerability, making it quite relatable.
Other OTT Releases This Week
Hijack – Apple Tv
Directed by: Jim Field Smith
Written by: George Kay
Cast: Idris Elba, Neil Maskell, Eve Myles
In Hijack, Idris Elba plays Sam Nelson, a passenger on a seven-hour flight from Dubai to London, which gets hijacked by a group of extremists. The narrative plays out in real time as Sam, an experienced business negotiator, must utilize his skills to prevent a catastrophe while ground control in the UK attempts to manage the crisis.
Celebrity Netflix
Directed by: Kim Cheol-kyu
Written by: Kim Yi-young
Cast: Park Gyu-young, Kang Min-hyuk, Lee Chung-ah, Lee Dong-gun, Jun Hyo-seong
Celebrity is a South Korean drama series that provides a stark look at the world of social media influencers and the subsequent pressures they face. The series follows Seo A-ri, played by Park Gyu-young, an ordinary office worker who becomes a social media sensation overnight and is thrust into the world of influencers, celebrities, and the obsessions they bear with their online image. She soon learns the hidden truths behind the glittering world of likes, followers, and subscribers, and has to navigate her own path.