Kudimahaan, now streaming on Amazon Prime, is a unique comedy-drama directed by Prakash N, who won the runner- up title for his short film Kutti Dhadha at the Naalaiya Iyakkunar Season -6 reality show. Prakash adapted his Kutty Dhadha into a fulllength feature film, and that is Kudimahaan (2023).
Who is Kudimahaan & What's his Story?
Kudimahaan is the story of a teetotaller middle-class family man. Whose life gets turned on its head due to an unexpected twist of fate. Mathi, our hero, works with an ATM replenishment agency. With a salary of 15,000 INR, he is leading a family of 4. He leads a simple and responsible life, fulfilling the needs of his family, including his father, who has a history of alcoholism.
But what if I told you that his life goes on a roller coaster ride, not because of any external pressure, but due to an odd medical condition?
This condition is so peculiar that it creates a role reversal, with Mathi, who has never tasted alcohol in his life, turning into a drunk, while his alcoholic father turns sober (because of a love affair 😉).
Can you imagine the chaos that ensues in his life due to this?
How will Mathi manage his job while dealing with this strange disorder? How will his family react to this sudden and bizarre change in his behaviour? And importantly, how does this affect his struggle to fulfill his responsibilities towards his family? These questions form the crux of the storyline of Kudimahaan.
What happens next in Mathi's life is something that will leave you entertained, perplexed, and curious, all at the same time. It's this compelling thread of curiosity that weaves the story of Kudimahaan.
Why you Should Watch This Movie?
What makes Kudimahaan special is not only the story but also the freshness in casting. This movie is filled with some new faces. Their performances will definitely make you laugh. But remember that this movie is not a laughing riot; rather, it's mostly filled with dark humour. This is my simple reason why you should give it a try.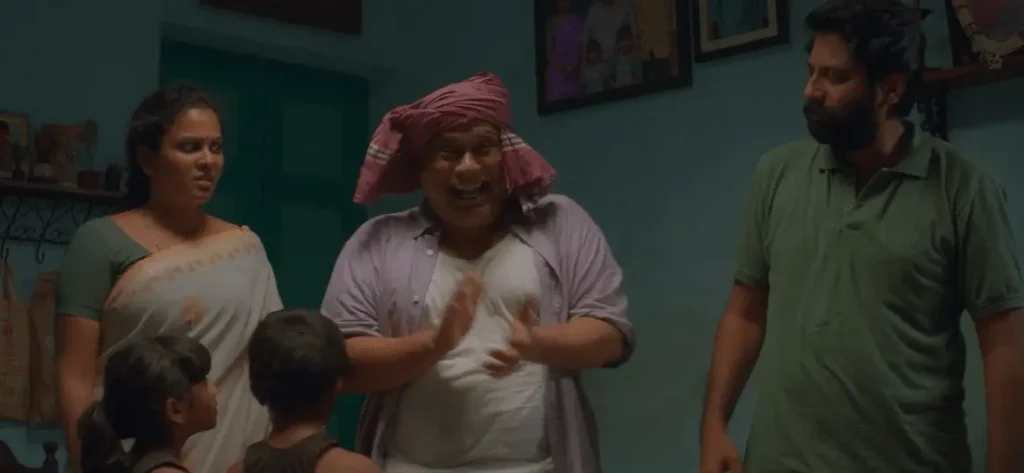 Vijay Sivan, who plays the lead role, does a great job showing us the life of an ordinary guy facing some crazy problems. He switches from a guy who never drinks to someone who can't help it, and he does it really well.
He keeps his acting simple and real, just like Biju Menon, using his eyes more than anything else to show us what he's feeling.
Chandini Tamilarasan, as the dutiful wife Pavithra, stands out even in the limited scenes she's in. She keeps her acting honest and matches up well with Vijay.
Suresh Chakravarthy gets to have all the fun playing Mathi's dad. He's a guy who doesn't care what anyone thinks and just lives life his way. He keeps us laughing throughout the movie.
Namo Narayanan comes in later in the movie and adds more comedy. He's good at making funny situations even funnier.
Last But Not Least
The director, Prakash N, has done a commendable job of keeping us invested in the movie. He told an unusual story from a new angle, using dark humour to address the serious parts. He is truly talented in getting genuine performances from his actors.
The movie is technically sound as well. Meyyandiran's cinematography captured the subtle emotions and the everyday yet special moments of life. Shibu Neel's editing kept the film's pace engaging and prevented it from becoming monotonous. Tanuj Menon's music could have been a little more impactful, but it does not detract much from the overall film.
All in all, the cast and crew of Kudimahaan have come together to create a memorable cinematic experience.
They turned an ordinary story into an extraordinary one with their combined skills and dedicated performances.
It's actually a perfect example of collaboration, and I recommend this movie to all film aspirants.