Jithin Issac Thomas' new malayalam film Rekha is about Rekha and Arjun, Arjun sneaks into Rekha's house one night to spend time with her, but the next day, he is missing. The film explores how that one night changes everything for Rekha. Are you intrigued yet?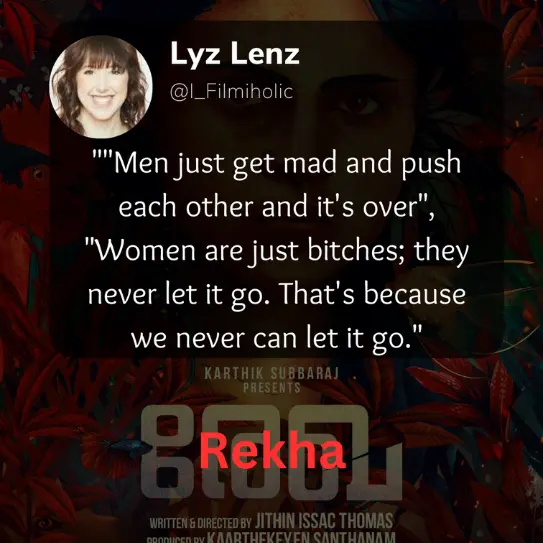 In the beginning if you think you are getting a feel-good film, think again, It's a Jithin Issac Film. He makes us uneasy from the very start of the film.
I love the way Jithin scripted its confrontation act. A casual question about a pet dog asked during a sweet moment between the couple and a casual answer turns everything upside down. It is an intelligently written scene.
The star of the film is undoubtedly Vincy Aloshious, who portrays the titular tomboyish woman perfectly. It's truly one of her best performances yet.
The visual and sound design of the movie is immersive, despite the minimalist approach. The director of photography, Abraham Joseph, who previously worked on "Kumari," does an excellent job of creating an atmosphere filled with grit and menace.
As with Jithin's other films, "Rekha" delves into politics. The movie sheds light on how people are labelled based on their origin(Character: Savitha Teacher or even Rekha), and the way Jithin incorporates Dalit politics into his movies is fascinating.
Remember if you compare this with a revenge drama like the Kill Bill/ 22 FK space I would say it's a half-baked attempt because of the several pointless extended scenes of violence.
In conclusion, if you're looking for an engaging movie with a captivating storyline, "Rekha" is a great choice. Don't miss out on this must-watch film that showcases the talents of Jithin Issac Thomas and Vincy Aloshious in its most minimalistic appraoch.